by Sharlene O'Neill
Ontario, Canada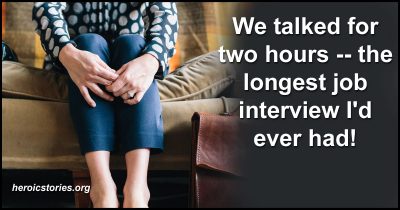 Growing up in the suburbs of Toronto, Ontario, I didn't have many places to go. Mostly I hung out with friends in a park, a hockey arena, or Markville Mall in Markham. I also worked at the mall, so I spent plenty of time there.
The mall was somewhere to socialize and work, but not the most important place in my life. However, when I returned home in my late twenties as a disillusioned single mom, I headed there once again to look for work.
There had always been a cute little store called "Ko's" upstairs by the food court that sold high-end giftware.I decided to apply there. The owner, Lindsay Ko, called me a few days later. Although he couldn't offer me a full-time position, he said he would still like to meet with me.
My first impression of Lindsay was that he was an exceptional listener, and very good-natured. I had a lot of experience in retail management as well, and we found that we shared many basic principles. He was a very smart businessman. He had owned the store since the mall opened, and it was one of the only independent stores left.
We talked for two hours — the longest job interview I'd ever had! Because of my parental responsibilities, I wasn't sure I could take on two jobs. Lindsay was very understanding; he had some of the same concerns in his own life. He invited me to come in and work any time I wanted.
I had never been given such an open door — especially not by someone I had just met!
I spent five years working part-time for Lindsay, plus full-time elsewhere. At times it was tough to juggle it all, but for the most part Lindsay let me make my own schedule. He also gave me creative license with visual merchandising, and his store became a great social venue for me, too.
Lindsay's guidance, support and friendship were exactly what I needed. His open-mindedness, clarity and humor helped me make good choices. He never judged me, and was always encouraging and optimistic. He's one of the most positive people I have ever met, and remains an influence on me to this day.
That store was a refuge for me; I was always welcome, and always left smiling. I went through some difficult times during those years, but working for Lindsay made everything easier to manage. I truly believe that he and his employees helped me find inner strength, love and faith that I may have left buried otherwise.
As I look back, I've come to marvel at what a wonderful guiding light Lindsay Ko was for me and for others. Likely he doesn't even realize it, because that is his way. Now that I'm more settled and happy, I want to pay tribute to a man who has given so much to so many people.
Originally published as HeroicStories #424 on July 7, 2003

Podcast: Play in new window | Download (Duration: 4:06 — 2.0MB)