By Maxine B.D. Mesko
Florida, USA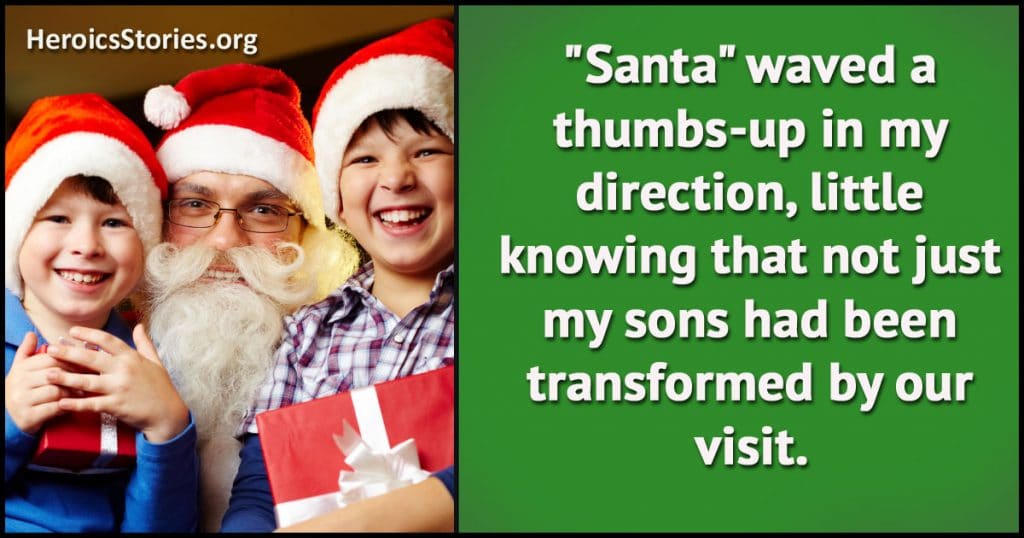 I am the divorced mother of two special-needs children. Their father lives in a neighborhood situated between two schools with programs ideal for each child. Since my sons attend those two separate schools, they live with their father. I'm two towns away, and see them Friday through Sunday evenings. It hurts, believe me. I feel especially lonely during the Holiday season, but I know it's the right thing to do for my sons.
One year at Christmas, "Pokemon fever", Christmas Blues, and holiday frustrations were filling my mind as I picked up my kids for the weekend. I took them on a Christmas lights hunt to distract myself while driving them to my house. I noticed a superbly lit house on a side street, so I turned the corner to view it up close.
"What, to my wondering eye should appear," but a Santa, helpers, and a fellow in a Rudolph costume stepping out of the house. As Santa headed towards his Santa chair, my eldest son, Zane, insisted I stop the truck to let him and his brother say hi to Santa. "No, we can't disturb him," I said. But who could argue a pair of boys out of talking to Santa?
I pulled the truck over, and as we got out I called out, "Hold my hand! Wait, there's traffic! Now, Zane, we'll say 'Hi' and then leave. Zack, stay out of the water." Finally we approached Santa, and I stepped forward to tell the red-clad fellow, "I don't want to impose, but my boys want to say hi to Santa Claus."
Santa gave me a broad wink and said to my eldest, "Ho, ho, ho! So, Zane, are you still listening to your Momma like a good young boy? Tell Santa what you'd like for Christmas." Over the edge of Santa's chair was hooked a box with candy canes. As Santa concluded his talk with Zane, he extracted a candy cane, a Rudolph beanie-key chain, and Christmas stickers, then handed them to Zane.
Turning to my youngest, with "Ho, ho, ho" as punctuation, Santa said, "So, you must be young Zack! How have you been this year?" And on he went talking to Zack.
In teary-eyed, numb astonishment, I saw both my sons' faces glow at meeting Santa. I realized that some people in this little Florida town find it within in their time and means to carry on the spirit of Christmas cheer. This was not a mall. This was Santa at a little house, with treasures from his own pocket for every child who would come to visit.
As I packed the kids back into the truck, I called out, "Merry Christmas, Santa and helpers, and keep up the good work!" "Santa" waved a thumbs-up in my direction, little knowing that not just my sons had been transformed by our visit.
Originally published as HeroicStories #263 on Dec 20, 2001

Podcast: Play in new window | Download (Duration: 4:15 — 3.4MB)