by Shellie Riggs
North Salt Lake, Utah, USA
I was raising three little girls on my own working two jobs to just survive. One year I got pneumonia, was out of work for three months and lost my jobs.
It's funny how your instincts work. A few month before, I had seen some dolls made and decided to buy the broadcloth and yarn to make them. But the project went unnoticed until Christmas time. I had no money, no presents for my children or other family members, and barely enough food to feed us. We had pancakes for almost every meal. But at least we had that.
So, out came the sewing machine and the project. I would work on the dolls late into the night after my girls had gone to sleep. I thought I was doing OK until it was Christmas Eve. We didn't have a tree and that's the one thing they wanted most. But all I had was a $5 bill. So my girls and I went looking for a tree that was discounted down to that $5 limit. We had made decorations out of newspaper, coloring books, tops of cans, anything the girls thought would look good on a tree — it's unbelievable what they thought would look good on a tree. We finally found a "Charlie Brown" tree, bought it, took it home, and decorated it.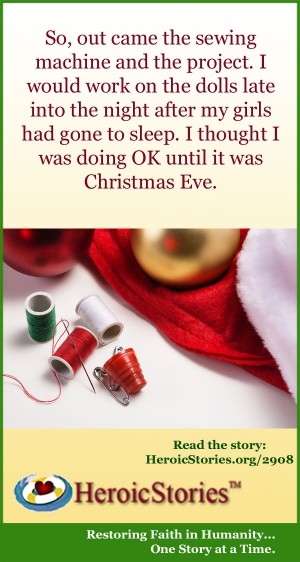 My girls helped so much that their young age seemed not to matter when it came to chores around the house. They all learned to cook, use the washing machine and dryer (when they worked). And they didn't know we had nothing. When a dam broke in Idaho, they saw on TV that relief workers were asking for donations of clothing and toys, etc., so they went through what few things they had and we took them to the donation drop-off. I was so proud of them — they had learned charity.
They all wanted this and that but when I explained that they were only getting one gift, they accepted it and hoped for a Barbie or Big Wheel or roller skates.
I finished the last doll at about 2:00 a.m. Christmas morning. I went to their room, found each one a stocking that didn't have a mate, and filled it with an orange and some candy, put their doll in front of their stocking, and went to bed.
The next thing I hear is "Mom, Santa's been here, get up!" I was so glad they were happy with their small Christmas so I got out of bed and went to the livingroom.
Santa had truly visited our home: under the tree were wrapped presents and boxes of food. I don't know how he got into our home because we didn't have a chimney and the doors were locked but there were presents for my girls and food to last a month.
To this day I believe in Santa Claus — be he a neighbor, a stranger, or just the "Spirit of Christmas". We were saved by him in 1981.

Podcast: Play in new window | Download (Duration: 4:27 — 4.1MB)