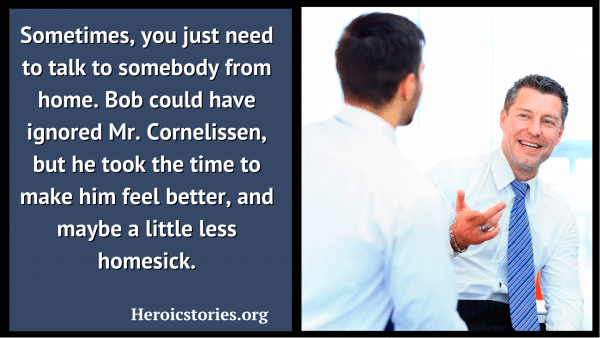 by Jodi
Texas
In the early 1970s, I worked at a computer company and became acquainted with a man named "Bob" who was friends with my boss. He was extremely talented in learning languages and spoke several fluently. He was a very sweet, funny, friendly man in his late 40s or early 50s. My boss told me that Bob would pick an obscure language and set out to learn it just because he wanted to.
My desk was right at the front, so I saw everyone who came in. We were constantly seeing people selling office supplies, and I had to tell them that our supplies were purchased at our main office and sent to us, so we couldn't buy anything. I always felt sorry for them, but that was the way it was.
One day, a man came in speaking broken English. He introduced himself as Mr. Cornelissen. He looked very sad and downtrodden in a worn, ill-fitting suit. He was probably in his 40s, but looked old and tired.
Bob had been visiting my boss, and he heard Mr. Cornelissen talking to me. Bob asked the salesman a question in an unfamiliar language. The man perked up and answered him. They sat and talked for several minutes, and Mr. Cornelissen grew happier by the minute.
Later, Bob apologized to me for speaking in a language I didn't understand, but I was happy that he'd spoken to Mr. Cornelissen and cheered him up. He explained that the man was from Holland, and Bob told him he was from there, too, as they chattered away in Dutch.
"Are you really from Holland?" I asked.
"Heck, no," he said. "I'm as Irish as Paddy's pig. But he needed to talk to someone from home, and it didn't hurt him to think I was Dutch, too."
He needed to talk to someone from home.
Those words have stayed with me through the years, and I was reminded of them several years later, when I was alone in another country. Running into somebody from my home state, Texas, lifted my spirits, too.
Sometimes, you just need to talk to somebody from home. Bob could have ignored Mr. Cornelissen, but he took the time to make him feel better, and maybe a little less homesick.

Podcast: Play in new window | Download (Duration: 3:20 — 2.5MB)
Originally published as HeroicStories #855