by Dave Luallin
Indianola, Iowa, USA
In 1996 my wife of more than 28 years, Lil, was diagnosed with interstitial nephritis, an end stage renal disease. She had lost 90 percent of her kidney function before we knew anything was wrong. We were told that we were facing dialysis and possibly a kidney transplant. As a nurse herself, Lil knew all about life on dialysis and wanted no part of it. She knew of the problems that long term dialysis patients are subject to.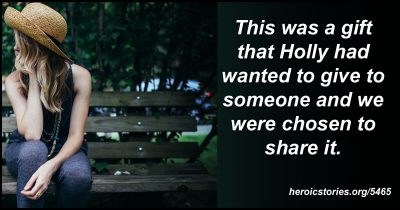 So, on the advice of the kidney specialists, we decided to pursue a preemptive transplant. However, this was not to be. In February 1998, dialysis could no longer be avoided — she would not live without it. And then after only two weeks into it, we received the call we had been waiting for. A kidney had become available.
When we arrived at the hospital, we were told that the kidney had come from a 15-year-old girl in an auto accident, nothing more. She was the same age as our youngest daughter. I asked about writing a thank you letter to the family and was told I had to address it to the "Donor Family" and they would pass it on. I promised myself I would do it as Lil wasn't emotionally ready to tackle it yet.
The family wrote right back, wanting to contact us. We learned that our donor, Holly Nelson, was an active 15-year-old, involved in sports and school. Just a few months before her accident, she had asked her mom to "promise me that if anything happens to me that I will be an organ and tissue donor. I want someone to live in my place if I can't."
When her Mom said, "Yes, but why?" Holly said she didn't feel she was going to live much longer. This was a gift that Holly had wanted to give to someone and we were chosen to share it. Not just a gift of life, but a gift of spirit as well. Because of her donations, she lives on in others.
We get little signs that it was meant to be. Holly and I have the same birthday. She died one day after our wedding anniversary. Her family had three girls. We also have three girls. The man who received her heart also has three girls. Lil was diagnosed with End Stage Renal Disease on a Friday the 13th. Holly's accident was on a Friday the 13th.
They may seem like coincidences, but they aren't to us. Thanks to the successful transplant, there is no more dialysis for Lil. In February 1999, a year after Holly's death, our family traveled to Nebraska and met her family for the first time. It was emotional, but so healing for us all. We can never thank them enough for carrying out Holly's wishes at such a tragic time. We know how hard it must have been, and must still be. We are overwhelmed by the gift that we have received.
Originally published as HeroicStories #169 on Aug 25, 2000

Podcast: Play in new window | Download (Duration: 4:15 — 2.0MB)