by Lynette Klingman
Louisiana, USA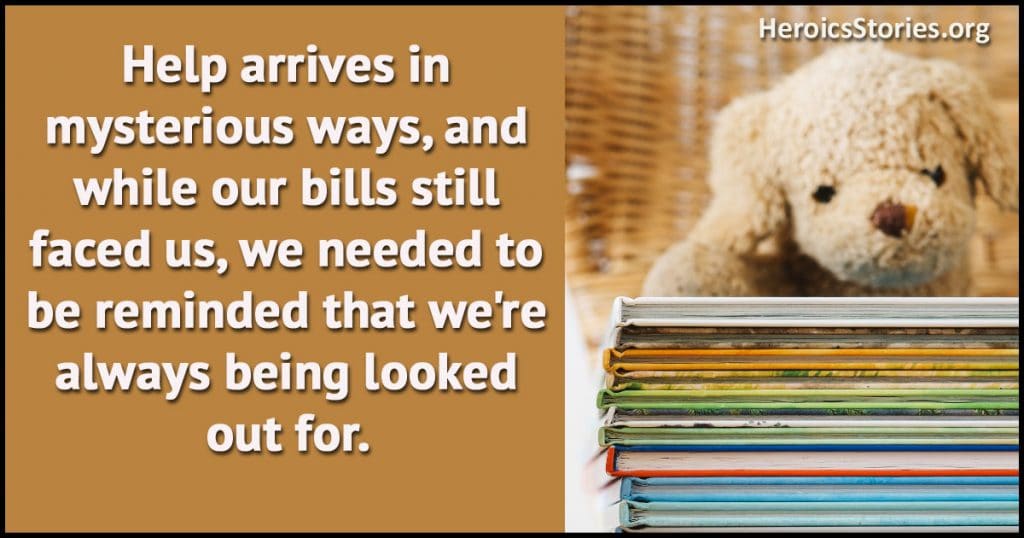 My family went through some very rough financial times in the summer of 2004. Then on top of that my husband suffered an injury at work that made things even worse.
My husband has always helped anyone who asked him. At times he fixed cars for other people for hours after a 14-hour workday, charging nothing. He just did whatever he could do to help out. Yet no one we had helped had remembered us, as our own cupboard quickly grew bare — and it deeply hurt. We were losing all hope, and facing the prospect of becoming homeless is scary.
Our daughter is the light of our lives, she was teaching herself to read at that time. She especially loved books, and learning to spell the new words in them. (As normal parents do, we brag to anyone who will listen!) We tried to keep our financial fears to ourselves, so she wouldn't sense that something was upsetting us. She's a happy child, and we wanted her to remain that way.
One Saturday in mid-August, when I opened the blinds in the morning I noticed a box on the bench in front of my house. Curious, I hurried outside to get it. Inside, there were so many books for my daughter, I couldn't even begin to count them!
On top of them was a key chain, a carved wooden fish — a symbol of our religion. I hung it on the wall on a nail by my daughter's breakfast nook, and explained the symbolism to her. Even though she's a normally very curious child, she left it right where I hung it
I asked family members if they left us a box, and no one knew what I was talking about. So this gift was from someone I like to call our "Anonymous Angel". Many of the books were in such perfect condition that we no longer need worry about having something to give my daughter for her birthday. The box may have been filled with books — but it also filled us all with hope.
Help arrives in mysterious ways, and while our bills still faced us, we needed to be reminded that we're always being looked out for. It took a kind, generous person and a box of books to help us remember that we need not worry, because we are never alone. It made my whole family's day to know that someone we don't even know personally cared enough to give such a gift from their heart to our daughter.
Originally published as HeroicStories #590 on Feb 11, 2005

Podcast: Play in new window | Download (Duration: 3:41 — 3.0MB)