by Joanne Swiechowicz
Randolph, Massachusets USA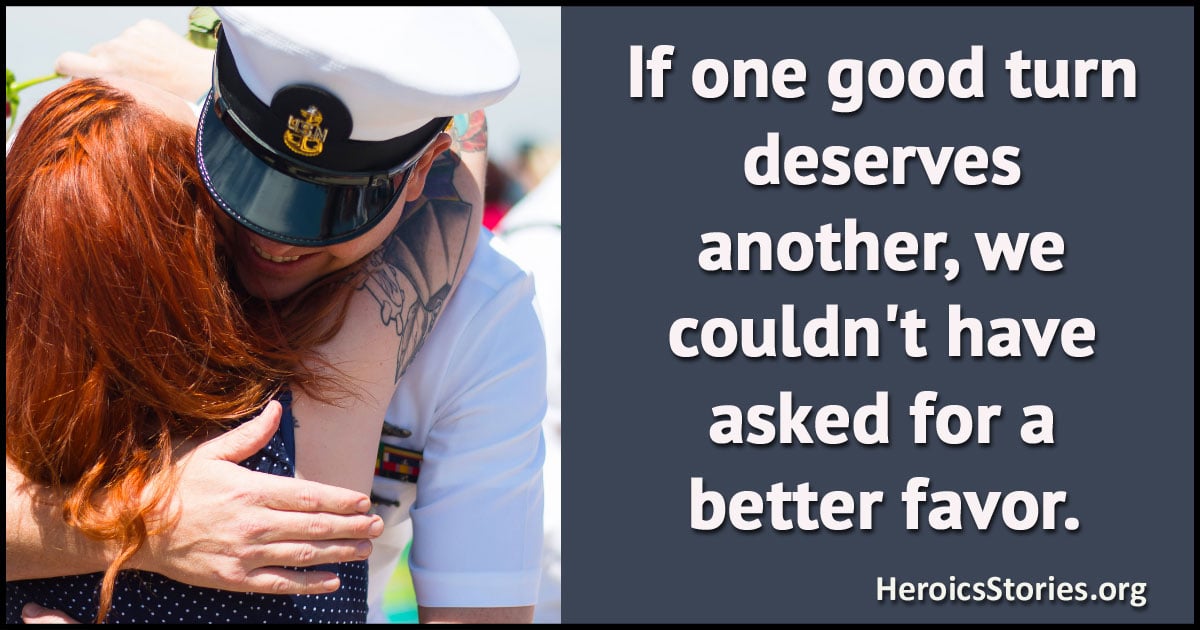 Our second son, Ross, was stationed at Great Lakes Naval Station in Chicago, and could not get leave to come home to Boston to see his fiancee for the holidays. We were pretty sad because we had not seen him for a while, so my husband bought round trip tickets for our son's fiancee and me to make a weekend visit.
Ross picked us up at the airport, and as we were leaving he said he had to do an errand before he took us to eat and then to our motel. I don't remember how far it was, but it was dark when we arrived and in a very seedy part of town. He told us to lock the doors after he got out and not open them until he came back.
After about a half hour I heard Ross talking to someone and the next thing I knew, chains were rattling and they were attaching our van to another car. A young sailor in our son's group had driven about 75 miles from the Naval Base to spend the weekend with his wife and baby. His car had broken down and he had to get back to the base for duty the next day.
We towed the car all the way back and the young sailor profusely thanked my son for coming to pick him up. He said he was sorry he had to ask him to come to such a bad part of town, but he had called other buddies and all had refused him. He finally called Ross in desperation, knowing he had to go to the airport. He could not praise our son enough saying, "You may not know it, ma'am, but Ross is always helping someone in the squad either with their naval duties or on his own time helping fix someone's car. He will make a fine officer some day."
When our weekend visit was over, we had breakfast and headed back to the airport. On our way, we were stopped by a state trooper for speeding. The trooper looked at Ross and asked him where he was stationed and where we were going. He answered that we had flown in to Great Lakes Naval Station on Friday to see him as we were all so lonesome, but we were late getting back to the airport for our flight because of all the traffic. The trooper started to say something about driving safely, but then he said, "Never mind, just follow me."
He took us directly to our departure gate and the plane took off right after we boarded. Ross and the trooper had coffee together after we left and we later learned that the trooper had radioed ahead for them to hold the plane for two important passengers, describing us. I felt that Ross's kindness earlier in the weekend was repaid in full. If one good turn deserves another, we couldn't have asked for a better favor.
Originally published as HeroicStories #195 on 29 January, 2001

Podcast: Play in new window | Download (Duration: 3:47 — 5.7MB)