by Rich Fahringer
Folsom, California, USA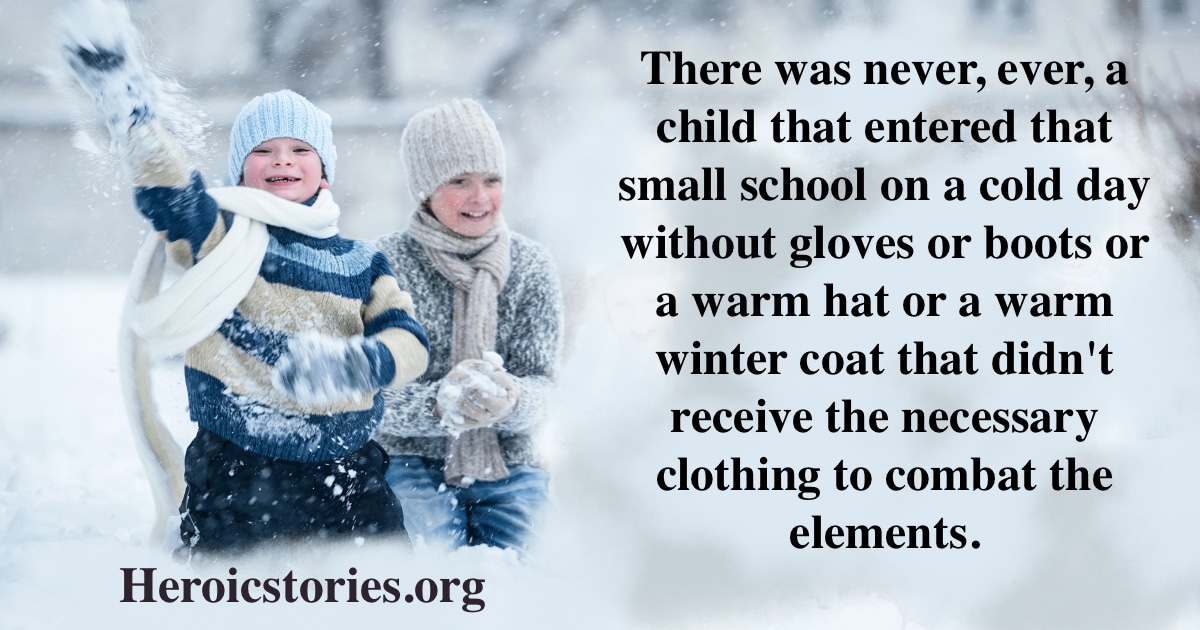 On November 5th, 1951, a small, shivering child walked up the knoll from the bus stop to the little elementary school in a rural town in northeastern Pennsylvania on a cold, blustery day, shaking in discomfort. He had no gloves, nor boots, to shield him from the wet and chilling effects of the elements — sub-zero temperatures and an icy mist blowing at 20+ MPH. It was far too cold for anyone to be "out in the cold," let alone a small second grader. The new school secretary noticed the situation, and, when he passed by the school administration office, asked, "why aren't you wearing boots or gloves?"
"I don't have any," the small child shyly replied. The next day, another cold day with an icy wind making the short walk from the bus stop to the school an even more uncomfortable trek for anyone, the school secretary stopped the young child and said, "here, try these on".
And, so it went, for twenty-plus years. There was never, ever, a child that entered that small school on a cold day without gloves or boots or a warm hat or a warm winter coat that didn't receive the necessary clothing to combat the elements. Over the years, the cost was considerable, possibly even exceeding her salary as a part time school secretary. Yet
she did it so kindly, so gently, that no child was ever embarrassed about receiving the small gifts.
Obviously, a woman with a heart that big didn't stop at warm clothes for cold children. Every new resident in town was always greeted with a batch of Cinnamon Buns ("sticky buns", in the local parlance). Sick and elderly people in the small town often received a casserole or other dinner to enjoy.
The vast majority of mankind has a big, warm heart. But sometimes it is just "too easy" to just have a payroll deduction or weekly tithe going toward "something good". This kind and energetic woman's involvement was so timely, had no overhead, and provided assistance where it was needed the most directly and immediately. And everything was done with a "personal touch".
We did, of course, have some idea of what my Mother had done over the years. But at her funeral a little over year ago we were overcome by the large number of people that showed up to pay their respects, and tell us of one more thing that "Agnes" had done. We were overwhelmed.
Not surprisingly, the crowd for the funeral exceeded the capacity of the funeral parlor. It's also not surprising that, when she was in the hospital and beginning to fail, she ordered my Dad to buy "sticky buns" and deliver them to people, and let them know that they were welcome. And asked him "did you notice any little kids that need a warm pair of gloves?"

Podcast: Play in new window | Download (Duration: 4:00 — 3.7MB)