by Barry Burton
Arkansas, USA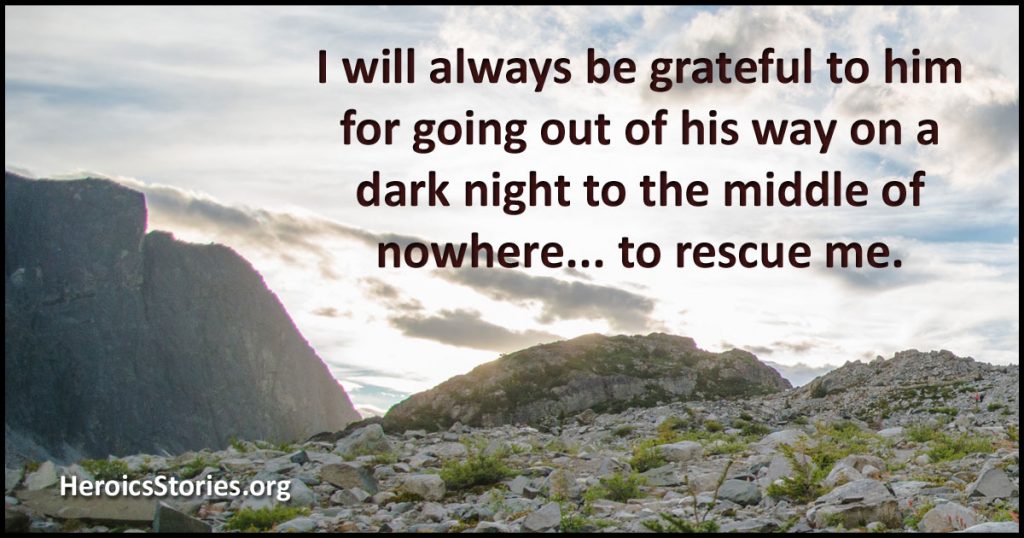 Having just graduated from high school, I was 18 and living with my parents in Denver, Colorado. In the summer of 1982 I decided to take my most daring trip ever. I wanted to go to Utah and visit a dear friend I'd known four years. My father had given me a small (250cc) street motorcycle as a graduation present, and I hatched a plan to ride it to Utah.
I was to get an early start, ride all day, and arrive at my destination (Paradise, Utah) that evening. Arriving in Ogden, Utah, in late afternoon, I looked at my map for an alternate route to save time. A small line on the map indicated an unimproved road heading northeast — straight to the little town of Paradise!
Of course I headed for it. The road quickly became a single lane, dirt farm road winding through fields. As long as it was dry surely I'd be OK. Suddenly, I lost control of the motorcycle and it fell over. I wasn't hurt because I wasn't going fast, but I was puzzled and couldn't figure out what had happened. It was dark now, so while my headlight showed me where the road was, I couldn't tell its condition, only that it was smooth.
I started again, and once more fell over after a few feet. I looked around and found myself very alone in a high mountain field. For the first time during the trip I started to get worried.
A few minutes later I couldn't believe what I saw — a pair of headlights bouncing along the road toward me, coming from the direction I was headed!
The man driving the small pickup stopped and asked if I needed any help. Not the type to bother others with my problems, I said I thought I could get where I was going on my own, but thanked him for the offer. He explained the problem — a rain had passed over during the day, leaving the dirt roadbed very slippery and muddy.
After another unsuccessful attempt I finally accepted his help, and we loaded the bike into the back of his truck. He turned around and took me back the direction he came from — to the place I was trying to go.
I asked him why he was out there in the field at such a late hour to begin with. He told me that he just had a feeling he needed to go down that road, but wasn't sure why. Then he found me.
It took us the better part of an hour to make it to the next paved road. All the while I was amazed that he was able and willing to be there, especially considering the condition the road was in further along. I will always be grateful to him for going out of his way on a dark night to the middle of nowhere… to rescue me.
Originally published as HeroicStories #646 on Jan 6, 2006

Podcast: Play in new window | Download (Duration: 3:52 — 1.8MB)