By Kevin S.
Texas, USA
After 25 years of varied drug abuses, I was using between $200 to $1000 worth of crack cocaine daily. I had lost my friends, my marriage, 20 years of savings, most of my possessions and the will to live without crack. Thoughts of suicide were constant.
No one knew that I was using drugs besides my dealers and me. I thought it was funny to answer honestly when asked "How's it going?" I'd say, "I'm trying to keep my crack habit down to $200 per day." I was amazed at the response: laughter. Since I never talked about using, no one knew.
My work was getting done, my projects were always finished. I was roundly praised for my willingness to work for days on end as crunch time for a project approached. For 18 months I reported to work at odd hours and stayed until the job was done. I also used each hour I worked. I would get the job at hand done and go buy more drugs. Sometimes I used for five to seven days straight, crashed for 24 hours, then started again.
In January 2000 I determined to quit using. In February 2000 I called an addict friend and asked for help. In March 2000 I decided that it was no use trying to quit. In April 2000, after a three-day binge, I determined to kill myself.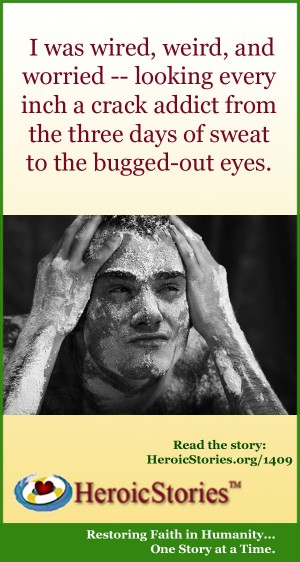 With my gun in my mouth, I thought "I can't live like this any more. Forgive me." But I was interrupted by the thought, "Go to work and talk with Bob. Be honest." I drove to work.
I entered Bob's office and asked if I could have a moment of his time. Bob's eyes narrowed when he saw me. I was wired, weird, and worried — looking every inch a crack addict from the three days of sweat to the bugged-out eyes. I said, "I have a drug problem and need help." His face changed from worry to concern. He asked, "What can I do?" I replied that I had no clue.
He made a call and sent me to a hospital detoxification center. After four days I left because I could, but I called Bob when I left. It seemed the honest thing to do. He said he would pick me up in the morning. I used all night. At 9:00 a.m. Bob took me to a treatment center. My insurance wouldn't cover treatment because my primary care physician hadn't referred me. Bob paid for it himself. I stayed 75 days.
After treatment I returned to work and asked to make a repayment schedule. Bob replied, "I didn't help to be paid back, I did it because it was the right thing to do."
I've got nearly two years clean now and I look forward to the rest of the life Bob saved — mine. Thanks, Bob.
Originally published as HeroicStories #309 on May 30, 2002