by Dave Wethington
Hawaii, USA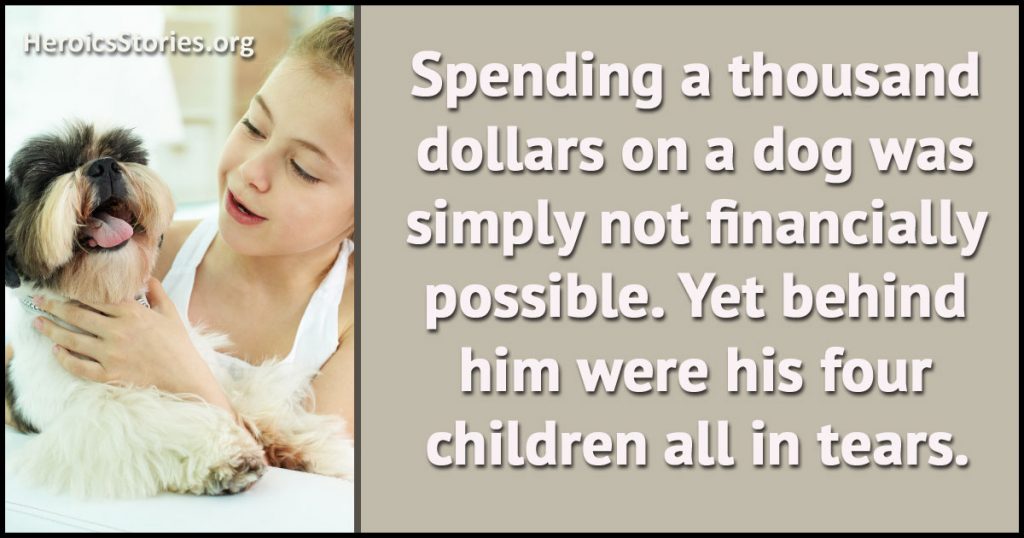 Jim is a biker and he acts and looks the part. He rides a Harley and proudly wears his leathers. He's big with long ponytail hair, big mustache, and dozens of tattoos. Jim's not the kind of guy you'd want to mess with.
One night Jim and his wife were home when their elderly cat took ill. The cat had serious health problems. With no children, this cat was their "child". In under a minute Jim, his wife, and the cat were in the car heading to the veterinarian.
Over the cell phone, the vet agreed to meet them at the clinic. The vet administered medication that soon returned their cat to normal. Just then another emergency case came in.
Dad, mom and four kids, all in tears, carried in a small dog on a litter. The dog had strayed into the street and had been hit. The dog had survived, but with severe injuries.
The vet determined that with immediate surgery and prolonged recovery the dog could be saved. However, due to the time-consuming and difficult work, the cost would be almost a thousand dollars.
The vet told the dog's owners what was needed and the cost, then added it would be much cheaper if he gave the dog an injection and put him down.
The family was faced with a terrible, painful decision. The father was especially distressed, explaining to the vet that he was a blue-collar worker with a wife and four kids. Spending a thousand dollars on a dog was simply not financially possible. Yet behind him were his four children all in tears.
Jim and his wife witnessed this entire drama. Stroking their cat, thinking of how much she meant to them, Jim saw concern and tears in his wife's eyes. Without hesitation, Jim told the vet to do whatever he could to save these people's dog, and put the expense on their bill.
The father said: "Sir, I really appreciate your gesture, but I don't think I could ever pay you back."
Jim's replied: "I don't want you to pay me back, just take care of your family. My wife and I don't have any kids, just our cat. Please let us help."
The father gratefully accepted the offer and the rest of the family gathered around, and thanked Jim and his wife profusely. The vet left to operate.
When the father asked for Jim's name and address, Jim said: "You don't need it. Just take care of your family. Pass it on in your own way to someone else."
Today there is a dog somewhere enjoying his extended life with his family because this man of leather and tattoos also has a golden heart. I'm proud to call Jim my friend and my brother-in-law.
Originally published as HeroicStories #735 on Dec 12, 2007

Podcast: Play in new window | Download (Duration: 4:09 — 3.6MB)