by Janet Bowlin Velazquez
Green River, Wyoming, USA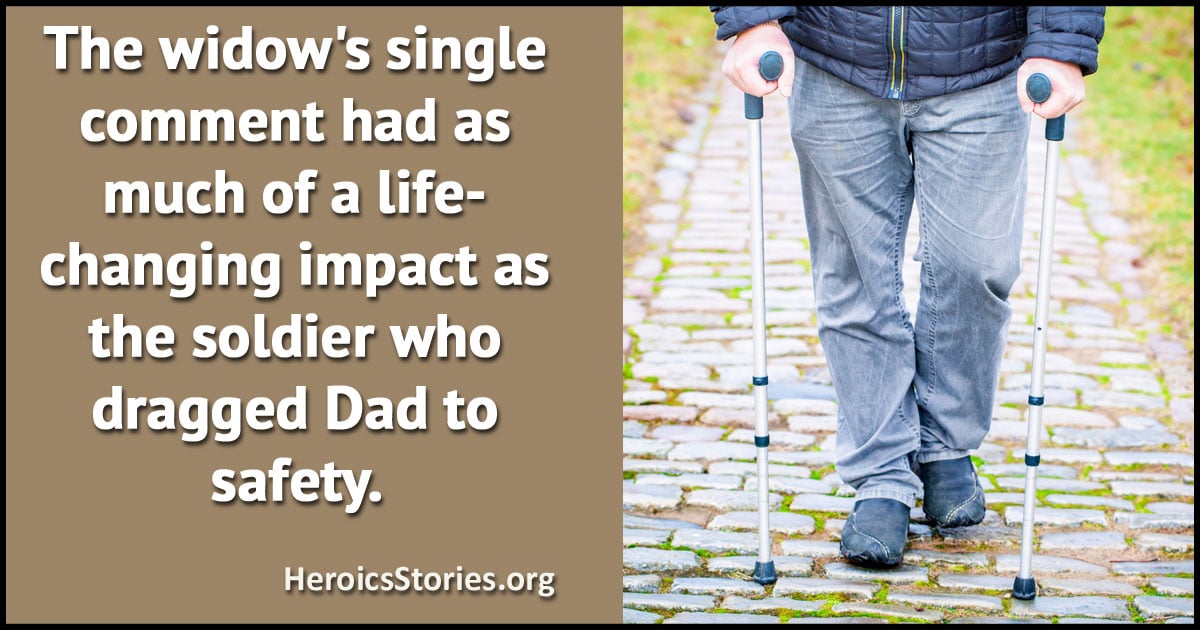 One February day in 1945, Dale and three other American soldiers were stranded in a ditch, watching a German division advancing toward them. Dale radioed but was told there would be no help coming. Facing death or capture, the four surrendered.
As the four prisoners were taken away, the group heard incoming artillery fire and everyone dove for cover. Dale realized shrapnel had severed the artery behind his left knee and, as he tried using his belt as a tourniquet, two German soldiers suddenly appeared above him. Dale figured this was the end but, instead, one knelt beside him and tried to help with the makeshift tourniquet. Despite the artillery fire surrounding them, the German worked with the belt until the buckle broke, then fled for safety.
Dale could see a German bunker about 75 yards away, so he began crawling towards it. He was several feet from the bunker when, in his last moments of consciousness, he looked up into the face of an enemy soldier and tried to say the German word for "doctor". Eventually his leg was amputated and he ended up in a German hospital. In April, the town was liberated and the prisoners were freed.
Dale returned to Kansas, married Phyllis, his high school sweetheart, and they had three children, including me. No longer able to pursue his dream of an athletic career, he became a chemical engineer. Dale didn't talk much about his experiences in the war. He wore an artificial leg, using crutches without it only at home at night. He didn't wear shorts or swim in public. Some long-time acquaintances didn't even know he was missing a leg.
About 35 years after the war, Dale's friend Bob finally convinced him to go swimming in the municipal pool. It took a lot for Dale to wear trunks in public and maneuver into the pool from crutches. But then a stranger approached him. She said her husband, an amputee because of diabetes, had died recently. He had been embarrassed by his missing limb and didn't go out much. She believed if he had been able to do what Dale was doing, her husband would still be alive.
Dale swam a lot after that. He started using his crutches in public. And he started talking to children at his church and area schools about the misfortune of war, and disabilities, and the humanity shown by the Germans who could have killed him or just let him die.
This isn't just the story of a soldier coming to terms with a physical disability. It's about the people my father encountered who saved and changed his life, and how their actions have enabled him to work toward making a difference in others' lives. The widow's single comment had as much of a life-changing impact as the soldier who dragged Dad to safety. Most of us may never have to save a bleeding man, but all of us can offer hope and love with simple words of encouragement.
Originally published as HeroicStories #199 on 26 February 2001

Podcast: Play in new window | Download (Duration: 4:26 — 6.8MB)