by Brett Carver
Santa Rosa, California, USA
We all have seen the stereotypical portrayals of "the in-laws" in movies and on TV. We're pretty much conditioned to believe that a couple's relationship with their respective in-laws to be a constant source of stress and tension. While it may be true for some, I tend to believe it's not general the rule. I have a great relationship with my wife's parents. And while my mom died before we were married, my wife had a relationship with my dad that was worth more than pure gold.
My dad was in a battle with prostrate cancer and, due to late detection, he was losing. He was spending a lot of time in and out of the hospital and nursing homes for recovery. At one point in the process my wife thought it would be a good idea if she went to visit him. I knew the effort involved and never asked her to do it; it was her own idea.
This was a big deal since it meant driving from our home in Santa Rosa, California, through the San Francisco Bay Area south to Monterey where my dad was. On a good traffic day, this was about a three-and-a-half-hour drive. It also meant traveling with our first son, who was a bit over one year old. In addition, she was also more than half way through her pregnancy with our second son. And with me constrained by work she had to make the drive by herself. And she did, spending several days with my dad. Next week, she did it again. And again, and again. Many weeks I'd come down for the weekend and we'd caravan home. This went on for weeks until her travels were restricted due to the pending birth.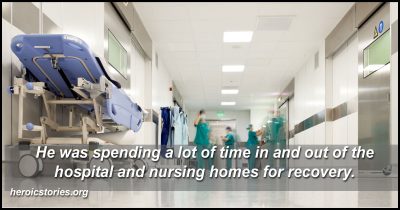 A few weeks after the birth, she started up again. But now it was with a 1-year-old and a newborn. Week after week, down she'd go. He was getting worse so sometimes she'd stay straight through the weekend (with me visiting when I could) and into the next week. This went on for many weeks until one day I got a call that I needed to get down to Monterey as soon as I could. Her warning allowed me to be there for the last couple days of my dad's life. He knew I was there and and we were both with him when he died.
That down-in-the-trenches demonstration of love and caring was worth more than I can ever express, and I've tried. I don't think many people would go through what Lorre Anne did so that her father-in-law wouldn't have to be alone during the last weeks of his life.

Podcast: Play in new window | Download (Duration: 3:38 — 3.4MB)