by George Bartley
Indianapolis, Indiana, USA.
When I was six and my sister was three, my parents took us to Kinston, North Carolina to see my aunt.  While there we visited the Kinston city park, and their miniature amusement train.  My father was fascinated by the setup – he was a railroad engineer, knew a great deal about amusement trains, and examined the train for hours – and began a conversation with the owner that went on all afternoon – the kind of conversation that only two diehard railroad enthusiasts could have.  After a while, he came to my mother and told her that he had just bought a train that he planned to install in Gypsy Hill Park – the larger city park in Staunton, Virginia – the town where we lived.  He told her that the Kinston owner wanted to sell the train, and only wanted $20,000 – and my father added that he had seem similar models for 5 times as much.
My mother was naturally horrified – $20,000 – that is more than our house cost – this was the 1950s.
My father then asked my sister and I if he should buy it- of course we were jumping up and down – we thought this was the coolest thing ever!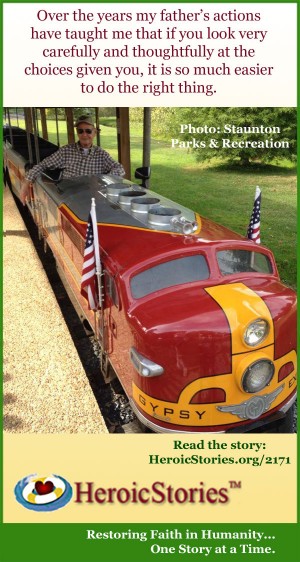 My mother said, "Well, this is against my better judgment – I will support your decision, but I don't agree with it at all."  She later began driving the train after it was installed in Staunton, and drove it until her death. This was at a time when driving a train was something that southern ladies just did not do.  Over the years, she became known in Staunton as the train lady, and was beloved by thousands of children.
Now when the train first arrived in Staunton, a crew of railroad workers installed the quarter mile track in the city park.  Children would ride the train – and years later bring their own children – who would later bring their own children. When my father passed away, the flags in the city were flown at half mast.
Shortly before he died, I was talking with my father about the train, and he told me that there was a separate city park for Afro Americans in Staunton, Virginia during the 1950s, it definitely was not equal. But one of the stipulations that the city council (who administered the parks) had before the train could be operated was that the train would not sell tickets to (using the terminology of the day) Negroes.  And since there was only one policeman in Gypsy Hill Park, city council did not want him to spend all his time chasing Afro Americans from the park.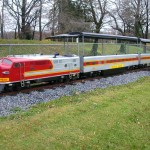 My father was in an ethical quandary – how was he going to pay for the train (he needed to keep it in Gypsy Hill Park) but he wanted to do the right thing.  So my father went ahead and agreed with the very conservative city council – this was the South during the days of segregation.  He was therefore allowed to keep the train in the city park.  You see, he never sold tickets to children who were Afro Americans – he let them ride free!  In a very real sense, because my father followed the rules of city council, he was able to integrate the park.
Over the years my father's actions have taught me that if you look very carefully and thoughtfully at the choices given you, it is so much easier to do the right thing.
Originally published as HeroicStories #862
Credits
Reader and author: George Bartley
Sound Effects:
Song:
"Railroader," Charles L. Todd and Robert Sonkin migrant workers collection (AFC 1985/001), American Folklife Center, Library of Congress
Photos: 
Staunton Parks & Recreation http://www.staunton.va.us/community/gypsy-express

Podcast: Play in new window | Download (Duration: 5:00 — 3.5MB)