By Tom Garvey
New York, New York, USA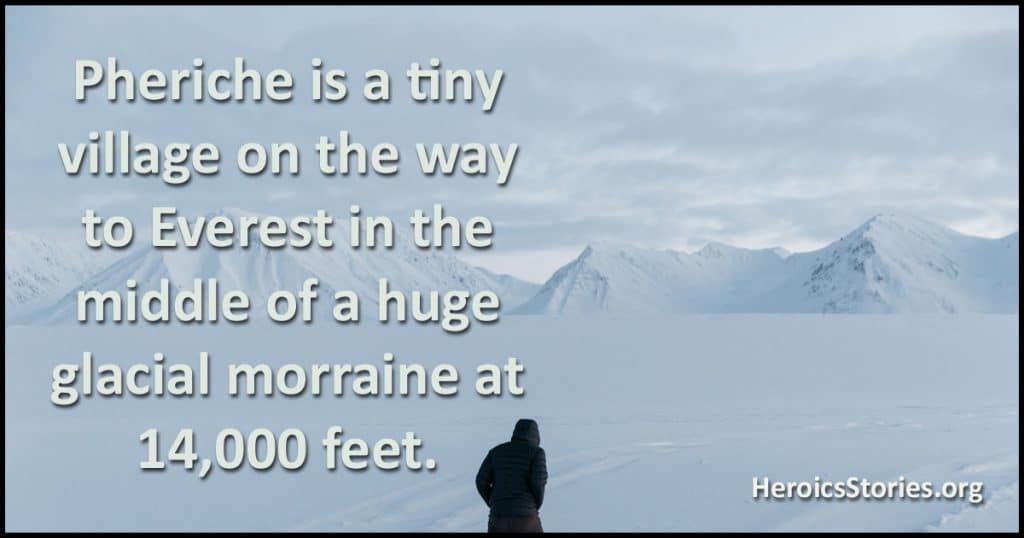 A few years ago, I was hiking with two doctors in the Himalayas. Pheriche is a tiny village on the way to Everest in the middle of a huge glacial morraine at 14,000 feet. There, we found a small crowd of trekkers surrounding a Nepali man. He lay on the ground near death — foaming at the mouth, twitching, and moaning, his eyes turned up into his head. Some Malaysian trekkers were giving him oxygen from a tank. My companions set to work on him immediately and were soon joined by a doctor from Kathmandu who was traveling with another group of American trekkers.
The man on the ground was in the end stages of altitude sickness. He was a lowland Nepali who had gone up to Everest Base Camp to sell things to the climbers and had ascended too quickly. When he got sick, concerned Sherpas carried him down to Pheriche where there is a mountain-climbers' clinic.
The clinic was closed for the off-season, but the caretaker unlocked it. Inside, one of my companions found a Gamow bag. It looks like a giant duffle bag. With the patient inside, it is inflated and ventilated by constant operation of a foot pump. The pressure inside simulates a lower altitude. They placed the lowlander inside the bag.
The little clinic was packed with concerned people — twelve Malaysians, six or seven Sherpa porters, some townspeople including the caretaker, a young man from Hong Kong, the other doctor, and a police officer from Kathmandu who was also traveling with the four other Americans. The doctors were pessimistic. To have any chance of survival, the lowlander would have to stay in the bag for many hours. The non-doctors chose shifts to pump the bag overnight. My two companions each took half the night to administer medical care.
I awoke at 5:00 a.m. for my shift. I found one of my companions sitting quietly with her patient who was out of the bag and breathing from an oxygen mask. Early in the morning, he had regained full consciousness and could not stand to stay inside the bag any longer. He was out of the woods.
After sunrise, we all contributed to pay some porters to carry the man to a hospital and to compensate him for the belongings he had left behind at the Base Camp. The last we saw of the lowlander, he was in a basket on the strong back of a porter who was starting the long trip at a sprint down the rubble-strewn valley. He arrived safely at the hospital, and the doctors there said he would be fine.
It was a privilege to see so many heroes from all over the world come together to save the life of a stranger.
Originally published as HeroicStories #33 on July 17, 1999

Podcast: Play in new window | Download (Duration: 4:01 — 3.8MB)