by Doug Swisshelm
Ohio, USA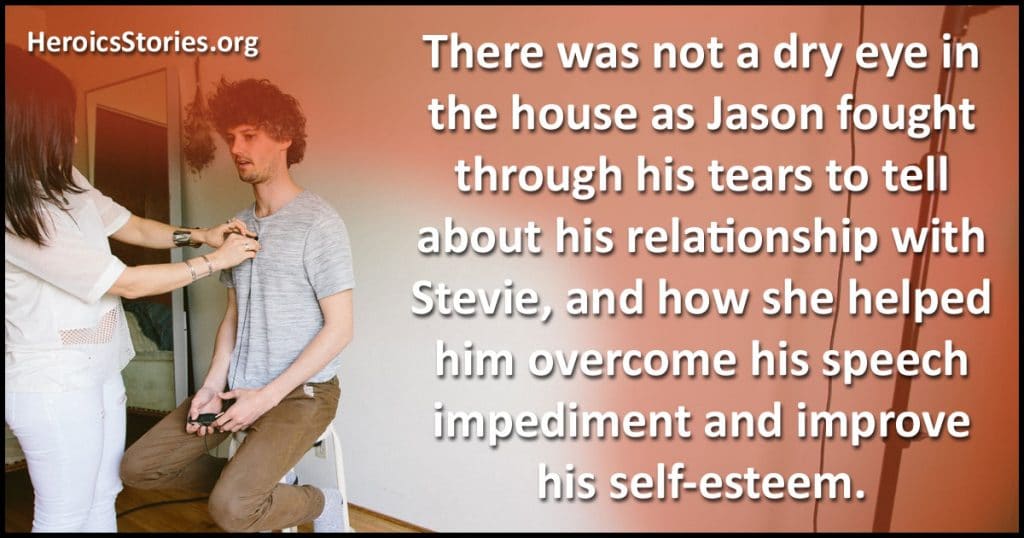 In January 2003, the mother of my best friend from high school died unexpectedly in her sleep one night. Stevie Lawler was a speech pathologist, working with children with speech impediments at a local grade school.
Before attending Stevie's memorial service, I knew her mainly as my best friend's mother, who had both a rapier wit and an occasionally tough demeanor. I was also aware that she and her husband were active in our community, volunteering time for numerous causes and standing up for what they thought was best for our city. She served for many years as president of the teachers' union, leading at least one teachers' strike, and many tense negotiations. She was both passionate and stubborn when it came to the things she believed in.
Through my friendship with her son, Stevie and my mom became good friends, and for many years played bridge together every month. But it wasn't until her memorial service that I truly realized how many lives Stevie had touched.
Several hundred people attended Stevie's memorial service at the local high school auditorium. Colleagues, friends, city leaders — even several of her sometime adversaries from the School Board — took turns regaling the crowd with their memories of Stevie and what she meant to this community and school district.
As in most memorial services, the entire crowd sat in silence. The only sounds were an occasional sniffle or a burst of laughter spurred by one of the numerous funny memories that were shared. None of the beautiful music performances or eloquent speeches, including the one given by her son as the closing eulogy, received applause… except one.
The most touching speech of all was given by one of her former students, "Jason", now in high school. This young man of only 16 or 17 years offered an intelligent, funny and poignant reminder of the true meaning of Stevie's life.
There was not a dry eye in the house as Jason fought through his tears to tell about his relationship with Stevie, and how she helped him overcome his speech impediment and improve his self-esteem. She found out that he liked cars, started talking to him about cars, and the next thing he knew he had completely opened up to her. Several times the audience spontaneously applauded his effort, offering him encouragement to continue.
Jason's conclusion reminded all of us that the students Stevie helped truly are her legacy, and said he will strive to carry on that legacy in her memory. This inspired an impromptu standing ovation from the entire audience.
As he said, Stevie "gave him his voice." And, oh, what a voice it was, that night and forever, thanks to Stevie Lawler.
Originally published as HeroicStories #506 on Apr 19, 2004

Podcast: Play in new window | Download (Duration: 4:05 — 2.1MB)