by Sue Pasztor
Toledo, Ohio, USA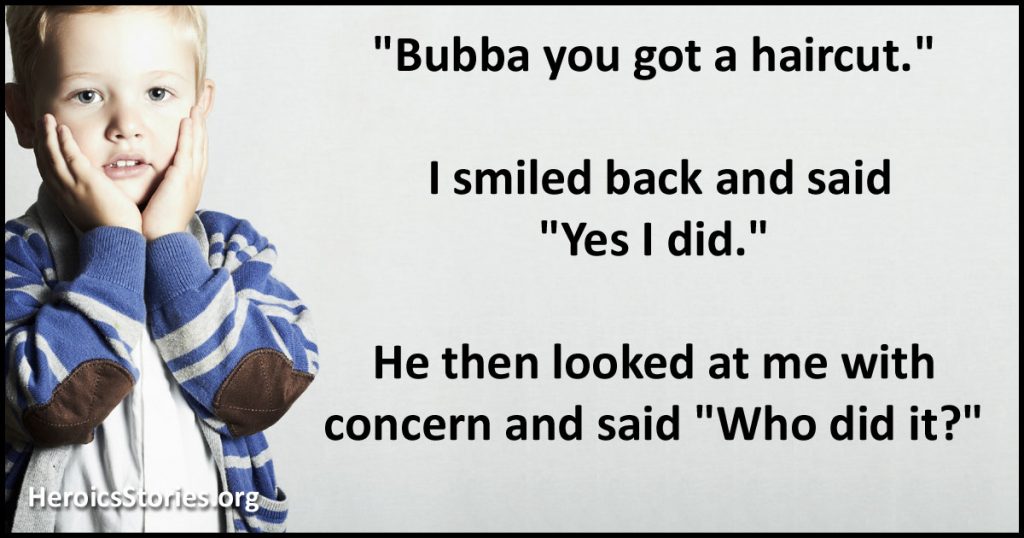 Six years ago, I went through life saving brain surgery. After spending time in the hospital, I returned home to recuperate. I was so depressed. My face was swollen and bruised, I had ugly metal staples from one ear to the other, and I was bald. To say the least, I looked like a monster and felt worse.
Being so depressed, I stayed in my room upstairs. I didn't want to see anyone, not even my family. My husband, children and grandchildren could not see me like this! I couldn't stand myself, so how could they stand me? I wanted them to remember me the way I looked before the surgery.
Several days after being home, I woke up, listened and could not hear anyone in the house. I got up and went to the bathroom down the hall from my bedroom. When I walked out of the bathroom there stood my little three-year-old grandson, Stephen. I couldn't begin to tell you the terror I felt when his eyes locked on mine. He hadn't seen me since before the surgery. What would he think?
He stood before me, and seconds later the biggest smile appeared on his face, and he yelled "Bubba!" — his special name for me. I smiled back at him with tears ready to run down my face for him seeing me this way. He came right up to me and gave me the biggest hug. There were no words for the happiness I felt.
He pulled away and with not a trace of fear he said, "Bubba you got a haircut." I smiled back and said "Yes I did." He then looked at me with concern and said "Who did it?" I told him the doctor cut my hair. That was all he needed to know. His Bubba was home and had a "haircut". He loved me. He didn't care what I looked like. He took my hand and began to lead me down the stairs. I froze for a moment, then realized that I was loved no matter what I looked like. I was still "Bubba". My place was with my family.
Together we walked down the steps, Stephen with the biggest smile on his face. He had found his Bubba. I had also found Bubba again. We joined the rest of the family and I never hid again from the people who loved me.
That little guy is nine years old today and I have been blessed with three more grandchildren. I almost didn't realize the unconditional love that children have, and how we tend to overlook some of the most important things in our lives. No matter how we change in appearance, we are still the same to people who love us. Thanks to Stephen, that "haircut" changed my life forever, for the better!

Podcast: Play in new window | Download (Duration: 4:08 — 2.0MB)