Richard M. Rosene
Cincinnati, OH
I was slated to undergo knee replacement surgery at Christ Hospital in Cincinnati, Ohio. The hospital strongly recommended that my wife and I attend a class that would explain what to expect on the day of surgery and during the ensuing therapy. We had no hesitation signing up for the class; it seemed like a no-brainer.
The day came for the presentation. The presenter was a nurse with 29 years of experience. We knew this was going to be a most helpful hour of learning all we had to know about the operation I was soon to have.
This nurse was a consummate professional and as thorough as we hoped she would be. She welcomed questions and never seemed to hurry through the answers. I had a few to ask her and felt she gave me straightforward, helpful answers.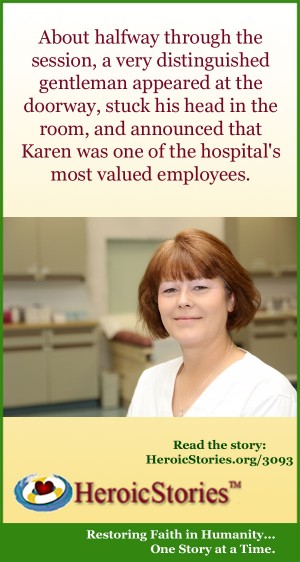 The door to the classroom remained open, as there was no distracting noise to be of any concern. About halfway through the session, a very distinguished gentleman appeared at the doorway, stuck his head in the room, and announced that Karen was one of the hospital's most valued employees. He said that we would do well to listen carefully to all she had to teach us.
Karen's face blushed as she heard this man's affirmations. As he hurried on his way, she knew we must have been wondering who this gentleman was that spoke so kindly of her. Somewhat embarrassed, she let us know he was the hospital's CEO. It made me wonder how many CEOs would make the spontaneous effort to voice such positive thoughts in such a setting. As brief as the interaction was, it did, without doubt, leave a lasting effect on this nurse's self-esteem.
Originally published as HeroicStories #867