by Jackie Wilson Goddard
Kansas, USA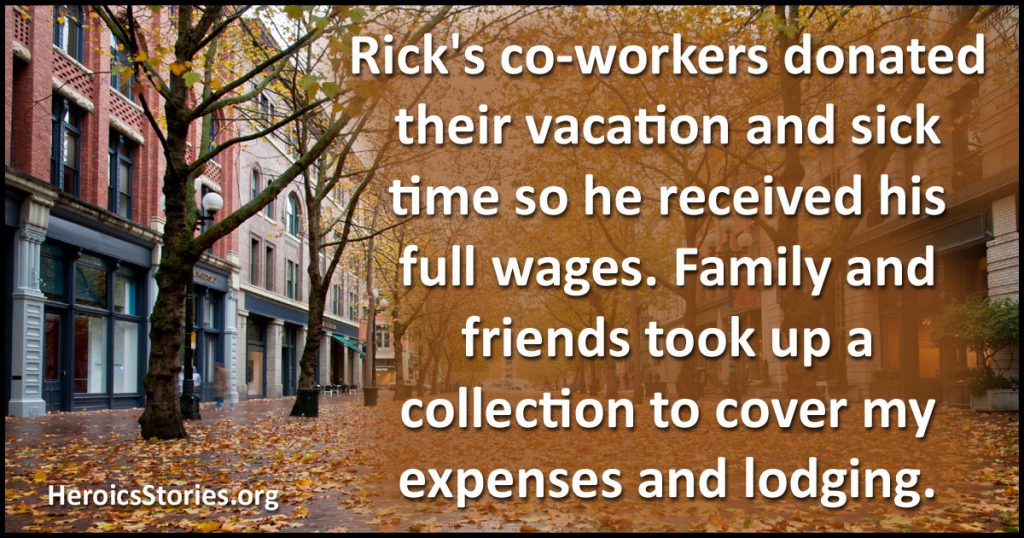 On October 13, 2007, my husband was diagnosed with Stage Four rectal cancer. It was also in his groin lymph nodes. Although not one doctor mentioned the odds of survival, through the Internet, I learned the prognosis was a grim 8 percent. Rick never asked.
The treatment plan included six weeks of daily radiation supplemented by chemotherapy by pump, followed by six weeks of recovery. Then surgery. Then another six weeks of recovery and finally six months of weekly chemotherapy.
Our 200-person rural town is 90 miles from the cancer center. Rick wanted to continue working as the custodian at the elementary school, so we scheduled the treatments for late afternoon. His sister and a friend offered to drive if I had to work or just needed a break.
The schoolchildren were heartsick. One boy added Rick to his nightly prayers. Another informed his mother, "My janitor is sick." When she explained the doctors were doing everything to make him better, the boy replied, "I know. I just don't want him to be sick." The children voluntarily gave up recess to do small jobs to help. Rick's co-workers were equally supportive.
None of Rick's treatment went according to plan. Twice, radiation caused skin burns, and treatments were suspended until he healed. The surgery, 270 miles away, finally took place five months later. Due to complications, a second surgery and setbacks, his "10-day hospital stay" became three months.
One neighbor kept our dogs for five weeks, another took the next nine. Another came twice weekly to tend the cat and plants. Others mowed the lawn.
Rick regularly received large envelopes of cards from the children. Calls and cards from family and friends were sometimes the only bright spot among all the discouragement. One friend drove 180 miles just to stop and see how we were.
Rick's co-workers donated their vacation and sick time so he received his full wages. Family and friends took up a collection to cover my expenses and lodging. Each act, large or small, enveloped us in a warm blanket of love that we were determined to return in kind.
For three glorious weeks after Rick came home, we believed he would recover. Then a CT scan revealed another large mass in his abdomen and a small one on his lung. In a matter of days, Rick's condition  deteriorated drastically and our family doctor said the remaining time was only a matter of weeks.
The hospice program provided equipment, fantastic nursing and emotional support. The $600 ambulance fee to bring Rick home was waived by the County Commissioners. The school board put Rick on "temporary leave" to retain his employee status. Food was delivered daily.
Family members stayed with Rick when I had to work. The hospital administrator volunteered to sit with Rick one afternoon when everyone's schedules conflicted.
Ten months after his diagnosis, Rick passed away quietly at our home, in the arms of an entire town.
Originally published as HeroicStories #783 on Dec 25, 2009

Podcast: Play in new window | Download (Duration: 4:48 — 2.3MB)