by Barry Prowell
Scottsdale, Arizona, USA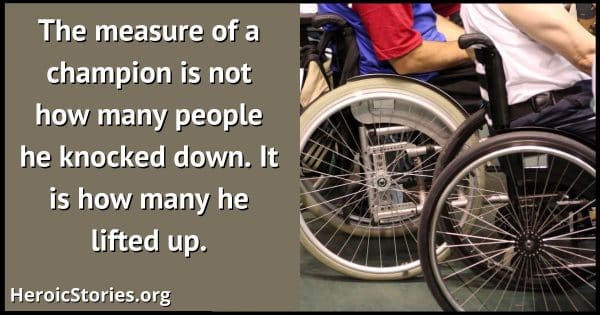 ---
A group of 25 men and escorts moved rather slowly. This was to be expected because there were only 23 legs and 49 arms among us.
It was December of 1971, and we were in Las Vegas, guests of Caesars Palace for four days. The New York Amputee Chapter of the Disabled American Veterans had arranged the trip. We were all patients of military hospitals in Pennsylvania and Maryland.
One evening we went to see the comedian Buddy Hackett. We stayed on after the crowd was ushered out of the show room. We sat waiting for Buddy Hackett to come out and meet us. Since I was one of the few who had two legs, I usually rose from the table, greeted the entertainer, and then introduced them to everyone. The entertainers were most gracious to us and seemed genuinely happy to meet us.
As I was sitting at the table, I noticed the showroom manager approaching with a black man in his sixties whom I did not recognize. I stood up and the showroom manager explained that someone wanted to meet us. He said, "Gentlemen, this is Joe Louis, former Heavyweight Champion of the world."
Joe Louis had already retired by the time I was a toddler but was often a guest on the old Friday Night Fights my grandfather used to watch. I was never much of a boxing fan, but I certainly knew Joe Louis defended his title an unequaled 25 times during his career. I pictured him as a man of few emotions and steel nerves.
Joe Louis walked up to me as I began to raise my hand to greet him. I never got it more than halfway up. He quickened his pace and threw his arms around me and held me in a bear hug. He held me like a father holds a long-lost son. He held me for what seemed like forever. Believe me, when Joe Louis gives you a bear hug, you begin to feel that maybe your chances are better with a real bear. When he released me, I looked into his eyes expecting to see something like raw determination, pride, or some other macho manifestation.
Instead, in his eyes I saw rivers of tears flowing from wells of love and compassion. I don't remember us saying a word to each other but I remember the feeling. The feeling was that this man's heart was open and he loved and felt for us all. He then moved around the tables, hugging all of the men.
I reflected on what had just happened and learned a lesson in life that remains with me still.
In a humble, loving heart there is more to strength than steel nerves and a fast punch. The measure of a champion is not how many people he knocked down. It is how many he lifted up.

Podcast: Play in new window | Download (Duration: 3:58 — 2.9MB)