by Kim Marr
Warren, Michigan, USA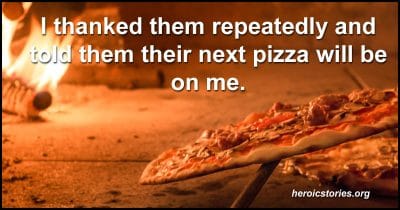 I am the acting assistant manager at a local store of a national pizza chain. Our store is located in a strip mall in Troy, Michigan, a suburb of Detroit. On Friday and Saturday we stay open until midnight, although our other local stores close at 9:00 p.m. The last of my crew leaves at 10:00 on the weekends, and 9:00 on week nights. Thus, I "close" or shut down the store alone on most nights. So I don't have to leave the store alone, my fiancee usually arrives a bit before closing time.
One weekend night this past April was extremely quiet. Around 10:30 I got a phone order from a customer named Paul. I told him his pizzas would be ready in 15 or 20 minutes. After getting his pizzas in the oven, I opened the front door and stood just outside to have a cigarette. Paul's friend Greg came to pick up the order, but the pizzas weren't out of the oven yet, so we stood in the doorway and talked. Greg couldn't get over the fact that the company would have a female close by herself. When he voiced concern for my safety, I explained that my fiancee would normally be there, but that he was out of state that weekend at a convention.
Many customers have questioned me about being afraid in the seven months I've worked here, so I didn't think too much about my conversation with Greg once he had gone. Yet, a few minutes later the phone rang. It was Greg! He was so concerned about me leaving the store by myself at midnight that he wanted to return at closing time to make sure I was OK.
Both he and his friend Paul returned right at the stroke of midnight. Greg came into the store to let me know they were there, then the two of them waited outside in their car until I locked up. I thanked them repeatedly and told them their next pizza will be on me. Greg said that after he got home it had bothered him so much, that he had to make sure I was all right when I left.
Now, the first thing you're probably thinking is that this was all done in order to impress a member of the opposite sex, but I know that's not the case. You see, I'm a 46-year-old obese grandmother, and my two guardian angels appeared to be in their late twenties!
I just cannot get over the concern and caring that two complete strangers showed for my safety and well-being.
Originally published as HeroicStories #167 on Aug 22, 2000

Podcast: Play in new window | Download (Duration: 3:25 — 1.6MB)