By Lori Ann Curley
Wisconsin, USA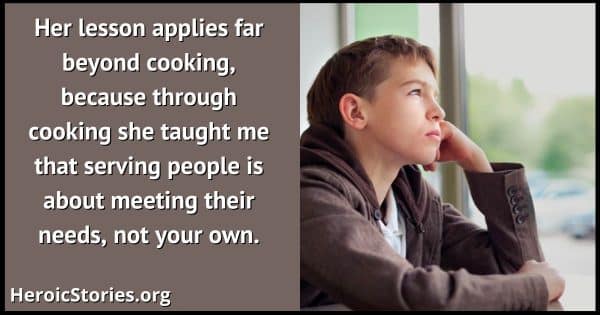 ---
For one weekend in late January every year, my parents volunteer for a church retreat. They don't lead any activities, but they prepare all the food, from meal planning and shopping to cooking, serving, and cleaning up. Mum doesn't use processed food, either. She buys all the individual ingredients and makes everything from scratch: Friday's taco feast, Saturday's breakfast with her special homemade cinnamon rolls, the soup and sandwich lunch, and a formal dinner Saturday night that includes chicken, baked potatoes, and homemade pie.
That's right, homemade pies for 60 to 100 people: blueberry, banana cream, chocolate, cherry, apple — and my personal favorite, lemon meringue. Mum makes them all from scratch.
For almost a decade, I helped Mum and Poppy during this weekend-long feast. The only year I didn't help in the kitchen was the year I attended the retreat myself. Otherwise, I sliced vegetables, laid out the buffet, coordinated volunteers, and waited tables for Saturday's dinner — whatever was needed.
One year, Mum discovered that one of the boys attending the retreat had diabetes. Most meals were no problem, as people with diabetes usually know how much carbohydrate is in a slice of bread, in taco meat, or in any other food served during the weekend. I noticed the boy looking longingly at the cinnamon rolls at breakfast, but he chose corn flakes over sugar-coated cereals, took fruit instead of rolls, and then went to sit by himself.
The retreat was famous for its homemade pies, though, and Mum didn't want this boy to feel left out. When the pies were placed on the buffet near the end of the formal dinner, I went around to each table announcing that dessert was ready and listing the variety of pies. When I came to the table where the boy with diabetes sat, he didn't have the same look of excitement on his face that everyone else had. So I said to him, "You get a whole pie to yourself."
"What? But I…" was all he could say before I interrupted him.
"It's made with a sugar substitute. You do like chocolate, right?" He nodded his head and his expression turned from sad to glad. "Good, I'll bring you a slice; everyone else has to go up to the buffet to fetch their own."
When I went into the kitchen for the pie, I told Mum to look at the boy. His face was beaming as he talked animatedly with the other people at his table. Mum said, "He looks like he finally feels he belongs here."
The main lesson Mum taught me about cooking was not a technique, but that the cook should tailor a meal for the people who will eat it. Her lesson applies far beyond cooking, because through cooking she taught me that serving people is about meeting their needs, not your own. Her example is with me always.

Podcast: Play in new window | Download (Duration: 4:30 — 3.6MB)
Originally published as HeroicStories #390 on Mar 10, 2003