by Steven Clark Willis
Lincolnton, North Carolina, USA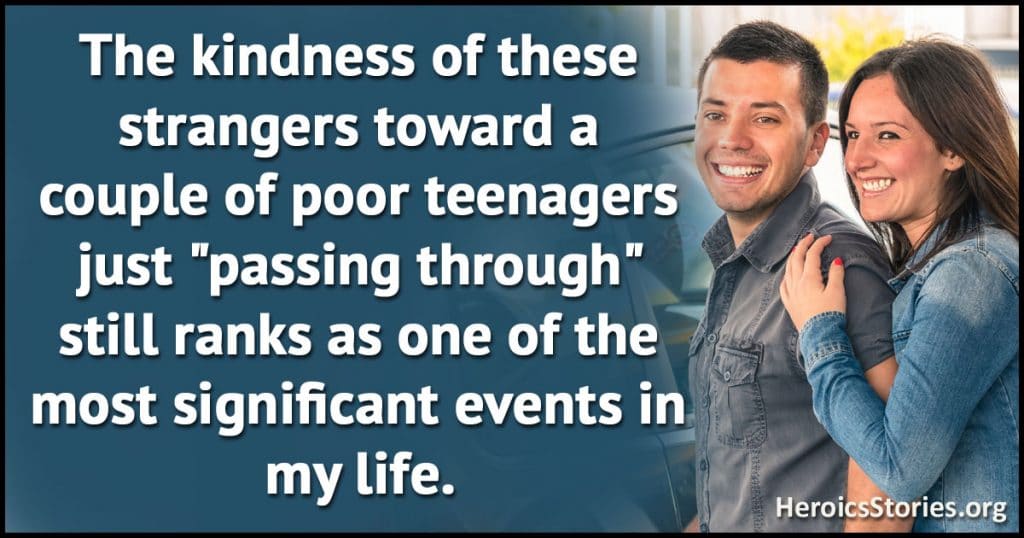 Many decades ago my wife and I were dirt-poor newlyweds traveling from coast-to-coast in a rattle-trap car and about $200 to our name. One sultry summer evening near Jackson, Mississippi, we started looking for a place to get our first meal since an early breakfast of biscuits and cold cereal. In those days it was rare to find fast food places except in larger cities, and every small town eatery we passed had already closed for the night.
We continued on, planning to drive all night, hoping we'd stumble across an all night truck stop. Finally, about 8:45 p.m., we saw a steak house (seemingly in the middle of nowhere) that still had its lights on, though the only cars we saw we're parked off to the side and probably belonged to the staff. Normally, with our limited resources, this kind of place would have been way too expensive — but we thought maybe we could at least get some soup, a chef salad, or something.
Being too young and naive to know any better, we didn't think much about the fact that we were the only customers in the restaurant — scheduled to close at 9:00 o'clock. Even though it must have been obvious that we didn't have much to spend, a compassionate waitress patiently handed us some menus. Of course, we took one look at the prices and knew we were in WAY over our heads! We asked if it was possible to just get two dinner salads and how much they would cost. Our waitress smiled warmly and said she'd find out.
After a few minutes, a man, probably the owner, came out from the kitchen and asked us if we wanted baked potatoes and steamed vegetables to go with the salads. We told him we didn't have enough money, but he insisted that wasn't the issue since the food would just go to waste anyway since they were closing. A few minutes later we were served an entire meal with everything but the steak — salad, vegetables, bread and butter, potatoes, iced tea, the works. Oblivious to the restaurant staff working around us getting ready to close up, we ate the best meal we'd had for days.
As we finished eating, I pulled a couple of dollars out of my wallet and got ready to leave. Our waitress came over, gently coaxed the money back into my pocket, and told us the meal was "on the house". My wife started to cry and several employees came over to assure both of us that it was just something they had all decided to do. "Here take some of this pie too," they said as we went out the door.
The kindness of these strangers toward a couple of poor teenagers just "passing through" still ranks as one of the most significant events in my life. I repay them often by slipping my servers — for reasons unknown to them — a little extra with their tips.

Podcast: Play in new window | Download (Duration: 4:06 — 3.1MB)