Matthew Wulfman
Calgary, Alberta, Canada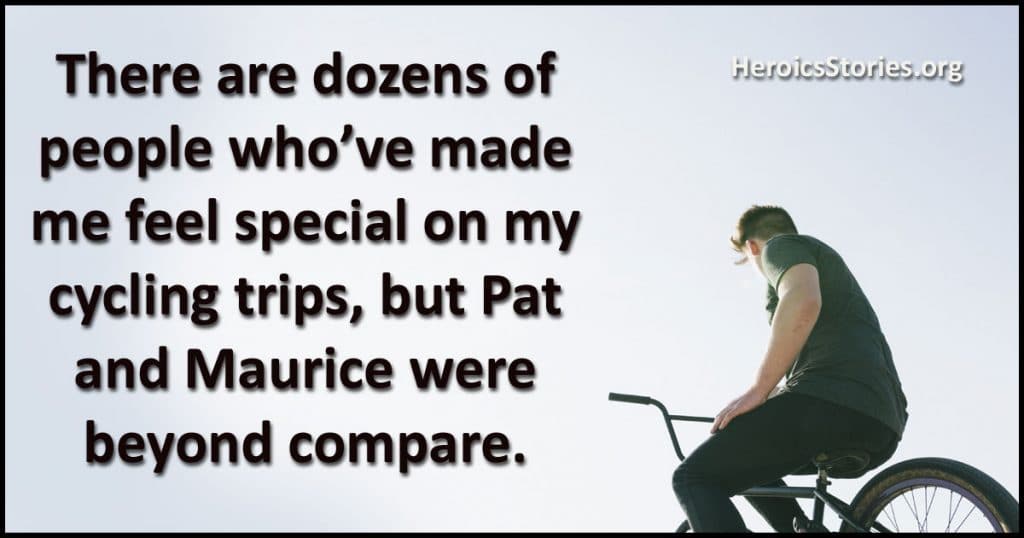 Ten years ago I did a bicycle tour through Ontario and New Brunswick. The New Brunswick leg started rather poorly with a persistent drizzle and intermittent showers. Besides being damp, it slowly but steadily began stripping the oil from my chain and the grease from my bearings. I was nervously expecting my freewheel to go next as it was making louder and louder noises. Instead, two spokes snapped. I was facing a complicated roadside repair — if I could get the freewheel off.
Luckily I was only a few minutes beyond a pay phone. I walked back and called the young lady I expected to meet. I got her roommate, Maurice, and explained my predicament. Maurice, who'd never met me, agreed to pick me up. Along the way, I learned that the young lady I was to meet had only told them of my arrival the day before and had left, saying merely that I could have her room and she would be back after visiting her boyfriend. So I never even got to see her!
Patrick, another roommate, soon came home from work, and the two spontaneously threw me a seafood barbeque. Both, having just had me sprung on them that morning, both gave me a warm welcome.
In the morning, I repaired my bike, then popped into Pat's to see where he worked, say thanks, and proudly let him know I'd gotten things fixed. I was a little premature. Attempting to cross an uneven piece of sidewalk, I positioned my weight wrong. My chin smacked into the sidewalk. Embarrassed and dripping a fair bit of blood, I headed back to Pat and Maurice's. Standing in front of the Pat's bathroom mirror, I pulled grass clippings out of my chin and realized that the bone had punched through the skin — I was definitely going to need stitches. I called Pat, who promptly got permission to leave work early and drive me to the hospital. I felt very silly but very grateful. I also realized that my bicycle tour was at an end. It would not be wise to risk getting grit and sweat in the deep gash on my chin.
Neither Patrick nor Maurice expressed any inconvenience or annoyance at the extension of their roommate's guest's stay. Patrick introduced me to his friends and drove me all over the nearby Fundy National Park, giving me a memorable two-day guided park tour. Later he drove me to rendezvous with my parents.
There are dozens of people who've made me feel special on my cycling trips, but Pat and Maurice were beyond compare. The two of them turned someone else's mishaps into a truly special experience, all the while acting as if it was the most natural situation in the world. Pat in particular gave me an uninterrupted, three day demonstration of how to take the awkward and uncomfortable mishaps in another's life and turn them into the best moments.
Originally published as HeroicStories #166 on Aug 15, 2000

Podcast: Play in new window | Download (Duration: 4:03 — 2.1MB)