by Terry Ann Fielding
Brandon,  Mississippi, USA
When I was about 12, my father decided that I needed something constructive to occupy my day; something that wasn't devoted just to me. At that age I was kind of selfish and felt that the world meant being with girlfriends, dreaming about guys, eating and sleeping. He had other ideas: I was signed up to be a Junior Volunteer at Children's Hospital in New Orleans.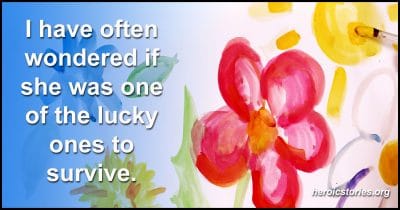 The hospital was for any child that needed specialized care. It didn't matter if they were poor, rich, black or white. All had severe health problems, and many would not even live to be my age. Most were very sick, in wheelchairs, missing limbs, blind, and some deaf. Some were there temporarily, until they were well enough to go home, and some were there so long you had to wonder if they ever would leave.
The hospital wasn't a dreary place. It was painted in bright colors, and always had cheerful volunteer workers and a staff that filled the need of surrogate family during their stay. I was assigned the job of playing with the kids. Sounds easy, but it was a challenge to figure out games that you could play as a group, or something to do one-on-one when a child needed special attention.
One sticks out above the rest even after all these years. She taught me to be thankful for all the great things I had, but sometimes took for granted — parents, regular schooling, clothes, food and, above all, good health. She never asked for much, and was always happy, smiling, and chattering a mile a minute. She was only about four years old, and seemed to have adapted rather well to her disability.
One day she wanted to paint a picture with watercolors. Easy enough, except she didn't have any arms. I felt sick that I was encountering a problem I couldn't solve. That is when I learned how to accept what you have and how to use it to the best of your ability. Yes, she did paint her picture. To this day I can close my eyes and see her painting with a brush taped between her toes. No, the picture wasn't perfect, but to me it was a Picasso: a simple flower in yellow and green. That child brought me into the real world and taught me many valuable tools for life. It led me to a life of giving whenever I could. I worked at the hospital for two years and it was my honor to share that little girl's life and grow from it. She gave more to me than I could have ever given to her. I don't know whatever became of her, whether she eventually went home, or even lived. I have often wondered if she was one of the lucky ones to survive. Not knowing, I have chosen to visualize her as a teacher, or a wonderful mother to a houseful of noisy children, teaching all around her to shine.

Podcast: Play in new window | Download (Duration: 4:17 — 2.0MB)