by Betti Daniels
California, USA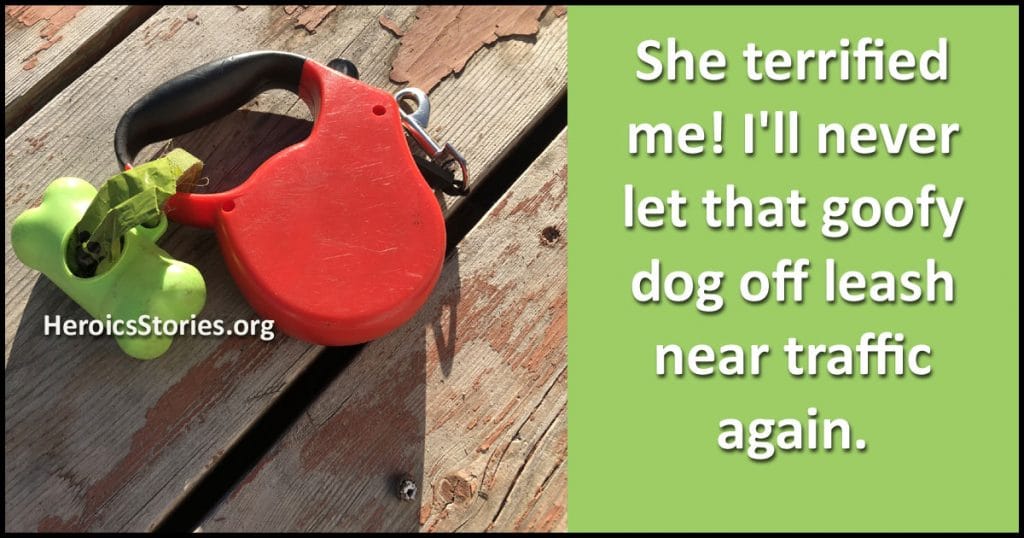 I have a three-year-old black Patterdale Terrier named Lola, whom we call "the terrorist" because she can intimidate larger dogs easily. She can steal their bones, back them down by barking her head off, chase or outrun them, all without appearing to try very hard.
She is really sweet by nature — just dominating.
Lola has enormous amounts of energy, and doesn't seem to lose steam even after an hour of full-on running. She needs plenty of exercise.
After a long day of painting bedrooms in May, 2007, I decided that Lola and my other dog, a six-year-old American Staffordshire Terrier named Desi, needed some fun. I took them up a local hill close to sunset — aware that the park would be closing, they could go off leash and no other dogs would be around. That would help us avoid any trouble.
Sweet Desi came running up to me when it was time to go, but not Lola. She kept up her little game of running just out of sight and then back to me — and RIGHT PAST me. I could not get a grip on her!
As we got close to the car parking lot, which is right on a busy thoroughfare, I realized I would not be able to catch her. Sure enough, she darted into traffic several times, each time my heart jumping into my throat. Yet people always stopped, managing to see her in spite of the twilight.
Finally, after nearly hitting her, two women turned their SUV around and got out holding a bag of chips. The two, a mother and her daughter, managed at least to help me keep Lola out of traffic.
Another driver nearly hit Lola, too. He stopped as well. When he got out of his SUV, he was holding just the tool to draw Lola close enough to grab. He had just been to a fast-food restaurant, and tempted Lola with the last two bites of his hamburger.
I will never forget the terror I felt watching that crazy dog run across the two-lane road up the freeway ramp. Still watching as for some reason turning back around — and then the delight when she managed to cross back to the car park and get her treat for being so mischievous.
I will also NEVER forget the kindness of these total strangers who helped me rescue my dog from her own energy. I introduced myself, wanting them to know how much I appreciated their patience and help. Neither the mother-daughter team nor the gentleman gave me their names, but I hope they know how grateful I am, from the bottom of my heart.
Now Lola has another reason for her nickname: She terrified me! I'll never let that goofy dog off leash near traffic again.
Originally published as HeroicStories #726 on Sept 28, 2007

Podcast: Play in new window | Download (Duration: 4:13 — 3.9MB)