By Martha
New Hampshire, USA
Shannon used to work second shift at my company, but often came in much before his start time of 3:30 p.m. In February 2003, at 11:30 a.m. on a Tuesday, he stopped at a donut shop near his home to get a cup of coffee. This was something he regularly did because he needed the caffeine to get through the night. As he got out of his car, he nodded at a fellow customer who was standing outside his car, eating a bagel.
As Shannon stood at the counter, his eyes skimmed the faces of the other customers in the store and he noticed a young man sitting below the TV. As Shannon watched the news, he noticed the young man get up and leave the building. He thought nothing of it until he heard the screech of tires.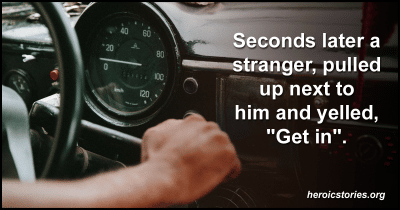 He turned around to see the man speeding out of the parking lot, stealing Shannon's car, which he had left running. He ran out the door, confused and angry. He didn't know what to do. Seconds later, the customer he had acknowledged earlier, a stranger, pulled up next to him and yelled, "Get in". They zoomed out of the parking lot in pursuit of the car thief… and the chase began.
Shannon and "Paul" weren't certain what route the thief had taken, but after navigating a route they assumed he would follow, they eventually caught up with him. But what to do now? They certainly couldn't pull him over. How would they do that? What if he was armed? With the thief in sight, Shannon used his cell phone to call the police.
From a reasonable distance, in order not to tip off the thief, they continued to follow Shannon's car. After what seemed like an eternity, the police took pursuit and the thief took off at an outrageous speed. By now they were in lunch-hour traffic, on a well-traveled road, so Shannon and Paul slowed down and let the police take over. They followed, but from a much greater distance. At the end of the chase, the thief rear-ended another car, and although Shannon's car was totaled, thankfully, no one was hurt.
After Shannon and Paul reached the accident scene, the driver waited while Shannon spoke to the police and gave them all the information they needed. They watched as the car thief was carted off in handcuffs.
Paul then asked Shannon if he needed a ride anywhere. This generous man then completed a couple of his own quick errands — and delivered Shannon to our workplace, refusing any payment for his time and help.
Shannon no longer leaves his car running, no matter how short his errands. But thanks to Paul, he isn't anxious about what might be in the heart of every stranger he meets. He knows some are as generous as Paul.
Originally published as HeroicStories #527 on July 1, 2004

Podcast: Play in new window | Download (Duration: 4:05 — 1.9MB)