by Angel Torres
Florida, USA
In December 2005 I was stationed in Okinawa, Japan. I was a Marine being deployed for seven months to Iraq, given leave to come home before going to the desert. It's an 18-hour flight from Okinawa to the U.S. I had to catch a different flight in Houston, Texas to Miami, my destination.
There was a delay in Houston, so with a couple spare hours, I decided to grab something to eat. After eating, I stopped at the USO (United Service Organization) to see if there were any Service members heading my direction. I hoped to find someone to chat with during the flight, especially if they were a Marine, or had been in combat.
After about an hour at the USO I headed toward my gate. When I got there I sat down in the waiting area, and decided to call my dad about picking me up in Miami.
Then I realized my cell phone was missing.
I looked everywhere, including the bathroom, restaurant and the USO. Having no luck, I used the payphone. I called my dad and asked him to cancel my account because I'd lost my phone. We share an account because he and my family want to be able to talk to me  anytime.
My dad asked that I not worry, we'd just get a new phone once I got home. After our conversation, I made my way on board the aircraft with disappointment — I'd lost all my friends' phone numbers, which wouldn't be easy to get back.
The flight was about to close its doors so I walked to the rear of the aircraft to get seated. Two gentlemen were already seated in the same aisle, so I stowed my belongings and sat down.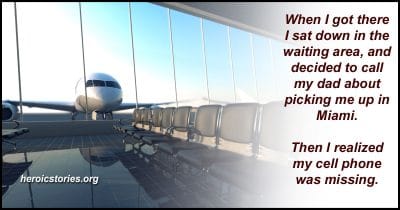 Not even a minute later a flight attendant walked up and asked if my name was Angel. I looked at her, and asked Why? She asked if I'd lost my phone and was the phone she held mine?
I looked at her, looked at the phone and just couldn't believe it. I mean, I am in Houston International Airport that houses many different airlines, serving tens of thousands of customers daily. When you lose something like a phone at a place like that, it's bound to be gone forever.
She said a gentleman picked up my phone and saw a Marine logo on it, then scrolled down to my dad's number. He called my dad, got my name and flight number, then took time off of his busy travel schedule and proceeded to the gate. He gave my phone to the flight attendant to return to me.
That phone was my only way of getting hold of everyone I care about, to be able to see them before leaving to combat, which at the time I thought was the last time.
That stranger did me a huge favor that day in Texas, and I am very thankful, even to this day.
Originally published as HeroicStories #807

Podcast: Play in new window | Download (Duration: 3:48 — 3.5MB)