by The Traveler
California, USA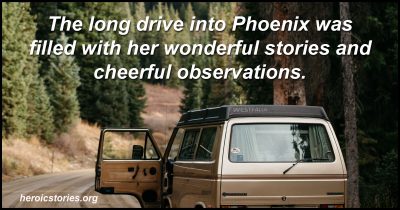 My siblings had planned this spring 2004 pack trip through the Grand Canyon for two years. I was breaking up with a man I adored, yet no way would I miss this trip.
Mr. Wonderful called the day before the trip to say he wasn't going — so I should make my own arrangements to get to Arizona from California. That was something of a problem. I'm far from wealthy, and my 52-year-old eyeballs aren't up to driving in unfamiliar territory.
But a family edict is a family edict: I made it.
The canyon was spectacular, the weather perfect, the company a hoot. Although we're all middle-aged and several decades from our last wilderness experience together, we comported ourselves quite competently.
Sore, tired, yet full of a sense of having accomplished a small miracle, we gathered at a restaurant back on top of the canyon rim for a celebratory dinner. Halfway through, my brother-in-law looked me square in the eye and said, "We're not taking you to the airport."
I was flabbergasted! We'd all met in Phoenix, and driven four hours into the canyon together. One naturally assumed we'd return to the airport to catch our respective flights home together. Apparently my flight, an hour and a half before the others, would entail everyone leaving at 9:30 a.m. versus 11 AM, and that just wouldn't work for them. Or something.
Eccentric family dynamics notwithstanding, there was neither taxi service nor shuttle vans from the canyon to the airport. I'd just spent the week backpacking. I had no cash. My credit card was maxed out. My sibs were unsympathetic. I was broke, physically exhausted and spiritually drained. And I was stranded.
In tears, I walked back to the hotel to try to figure out how to get home. I walked into the lobby at night, totally distraught. The woman at the front desk noticed my sniveling and asked what was wrong.
When I told her, she went into action. Roberta W grabbed a phone and started calling. The Phoenix tour bus wasn't running, so she called her son. He couldn't get away to drive me, so she called a co-worker. As I watched slack-jawed, she arranged to switch shifts with him the next morning. "Be here at eight tomorrow, I'll take you. Go get some sleep."
She showed up on the dot, and gathered my stuff into her van.
I'll bypass the personal travails this dear woman was dealing with, and the challenges she's overcome. The long drive into Phoenix was filled with her wonderful stories and cheerful observations. Not only did I make my flight in plenty of time, I did so with a vastly improved outlook on life and its vicissitudes.
I've no idea what motivates a person to spend her day off driving across a state in aid of a clueless stranger, but Ms Whitt's astounding generosity put the previous evening's pettiness into a perspective I have not forgotten.
I'd like to publicly thank her for the lesson she imparted.
Originally published as HeroicStories #724 on Sept 13, 2007

Podcast: Play in new window | Download (Duration: 4:21 — 2.1MB)