By Jackie Walton
Washington, USA
Tacoma. It's a large town in the Western US state of Washington, typically seen by Washingtonians (including most Tacoma residents) as a mediocre suburb of Seattle. The streets, buildings, even the people, all are mediocre — or so they say.
I beg to differ.
Shortly after September 11th, 2001, I was absentmindedly reading the newspaper and noticed that the Tacoma Jewish Temple, Beth El, had been the victim of an attempted arson. Fortunately, a neighbor had called the fire department quickly so there was little damage. Yet this, combined with graffiti a week earlier blaming U.S. support of Israel for the terrorist attacks, had our community concerned. A local association of different religious groups decided to hold a candlelight vigil at the temple to support its members.
I was deeply disturbed by the news of the fire. Temple Beth El's Rabbi Glickman had come to speak to my college class about Judaism. He had struck me as a man of strong character and faith. I had attended a Friday night service and appreciated the people I had met. How could someone try to destroy their temple?
I decided to attend the vigil. I wasn't expecting many people; it had only been two days since the attempted fire, and I had seen next to no publicity. I hoped that we'd have at least 50, or maybe even 75 people.
Was I ever surprised! People began coming, and coming, and coming… until we had hundreds of attendees (the paper estimated 500). They crowded into chairs, against the wall, on the floor, yet still more came. All had heard over the previous two days and wanted to encourage our Jewish community.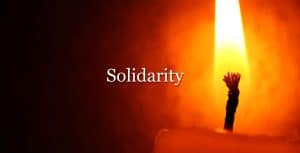 Eventually, Rabbi Glickman spoke. He was obviously moved by the strong show of support. His message, simple and to the point, thanked us for coming and standing with the Jewish community to make sure that such acts of hatred "won't work in Tacoma." Later we all walked with our candles around the temple. This was the first rainy, windy night of the season, not the best night for candles, but this only brought us together. Christians, Jews and those of other persuasions chatted and re-lit each others' candles as we surrounded the temple grounds. I was profoundly moved by this show of support, as anti-Semitism has always made me wonder if humans will ever move beyond scapegoating Jews.
The simple act of 500 Tacomans voting with their feet and coming to this vigil gave me renewed hope. We may never be able to rid society of those who can't move beyond their hatred for what they don't understand. Yet our meeting showed me that such people don't have to call the shots. It takes strength and determination to stand up to hatred and prejudice. Tacoma may not be as exciting as Seattle, but this day we rose to the occasion, and demonstrated that we have that strength. I have never been so proud of my town.
Originally published as HeroicStories #252 on Nov 12, 2001

Podcast: Play in new window | Download (Duration: 4:19 — 4.0MB)