by Shawna M. Thayer
Arizona, USA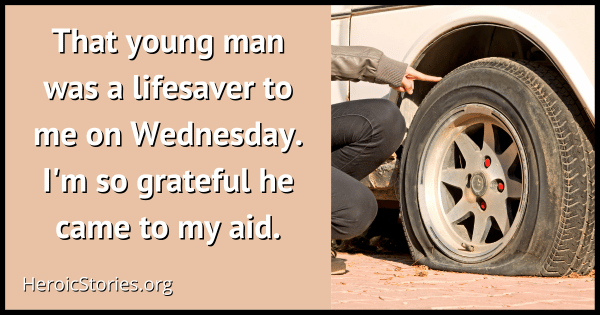 I moved to Phoenix, Arizona in 2000 for graduate study at Arizona State University. It has seemed to me that "big city" people are less friendly and helpful than the Wisconsin folk I grew up with. People's crankiness get worse as temperatures rise, too, so summers in Arizona aren't particularly pleasant.
Until a friendly stranger proved me wrong.
The first day of September 2004, I was driving home from work with my baby boy sleeping in the back seat. My rear right tire blew out at 70 miles per hour. Luckily I pulled off the road safely, but it was 110 degrees. The car's AC was running, but with no shade, it was warming quickly.
It would take roadside assistance over an hour to arrive. I thought about children getting too hot in a car, and if a car whizzing by would hit us.
Under less stressful situations, I can change a tire. In fact, my father wouldn't let me get my driver's license until I could change a tire completely on my own. But with a six-month-old infant and cars cruising by so fast and close, I didn't know what to do. I was frazzled and frustrated.
Just then, a bright yellow motorcycle pulled up behind me. The driver pulled off his helmet and came to my door. In his early twenties with blond hair and big blue eyes, he smiled. "Do you need help changing your tire? I can help if you have the equipment."
Though I was wary about such situations, something in his face assured me he was a genuine and kind person. A mechanical engineering student at ASU, Justin said he didn't get many opportunities to use his skills, so he was happy to help.
Justin wouldn't let me touch a thing. When I asked what I could do, he said to pop the car's hood so the radiator wouldn't overheat (the AC was on for the baby). I was so frazzled I had trouble with the latch, so he found it. I would've felt worse if Justin hadn't been so kind. "Why don't you just wait inside the car and keep your baby happy?"
With the spare on, Justin made sure I knew where the nearest tire place was and even offered to follow me there. When I tried to give him money in gratitude, he absolutely refused. "I'm happy I could help. Keep your money." I tried again, saying I would've paid more in towing charges, but he wouldn't budge. I thanked him over and again. He waited behind me until I merged onto the freeway, and waved as I exited at the first ramp.
That young man was a lifesaver to me on Wednesday. I'm so grateful he came to my aid. I'd been sure that the only really nice people resided in the Midwest, but now I know good people are everywhere! I know I'll help someone else in the future the way Justin selflessly helped me.
Originally published as HeroicStories #545 on September 3, 2004

Podcast: Play in new window | Download (Duration: 4:17 — 6.8MB)