by Carrie Bryant
Brownstown Township, Michigan, USA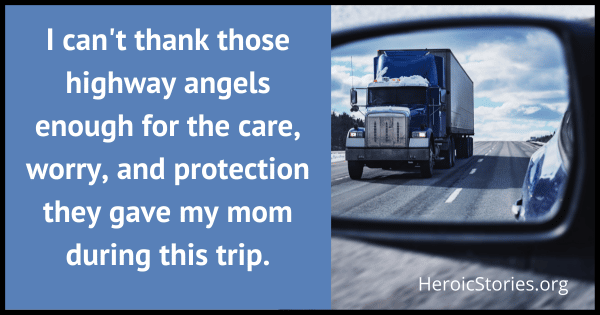 The summer of 1990, my kid brother moved to California. Mom and Dad had to get his car out to him, so they decided Mom would drive it to California two weeks before Christmas, and Dad and I would fly out to spend Christmas together with both my brothers. The day before my mother left, she fell and broke her left wrist and it was put in a cast up to her elbow.
By the fourth or fifth day of her trip, Mom called while I was at my parents' house helping Dad. She was in Texas, not far from some friends of theirs, but she found herself so tired she pulled off the road for a 20-minute nap. She woke up, drove to a restaurant, and called their friends. She got directions to their place and left the restaurant.
As mom stepped outside, a man came up to her and asked if she was driving a Ford EXP with out-of-state plates, and had she pulled off the road somewhere a little while back to take a nap or something? Mom was wary about all the questions, but the man assured her he meant no harm. Once she said yes, she was that woman, he asked her to please wait where she was while he made a call, and he would come back to explain. He went to his sixteen-wheeler truck, grabbed his radio microphone, and made a call.
When he returned, he told her that truck drivers had been following her since Indianapolis. It seems that a driver had noticed this little white-haired lady with a cast on her left arm driving a stick-shift cross-country. Since she didn't have a CB radio and probably didn't have a cell phone, they took it upon themselves to watch over her. They knew what hotel she stopped at for the night. Each morning another driver would pick her up and continue the trip. Any time the driver following her had to go in another direction, he radioed another trucker driver who picked my mother up and continued following her.
Mom never knew she was being followed day and night by these truck drivers. The driver at the restaurant, telling my mother this story, stated that when she had pulled off the road for those 20-30 minutes, the drivers had lost sight of her and panicked. They were looking for her when he spotted her car at the restaurant and stopped to make sure she was all right. Once he confirmed she was the right lady, he had to call the other drivers to let them know he had found her safe and sound, as they were getting ready to call the state police to look for her.
I can't thank those highway angels enough for the care, worry, and protection they gave my mom during this trip.

Podcast: Play in new window | Download (Duration: 3:50 — 6.0MB)