by Barbara Kelman
California, USA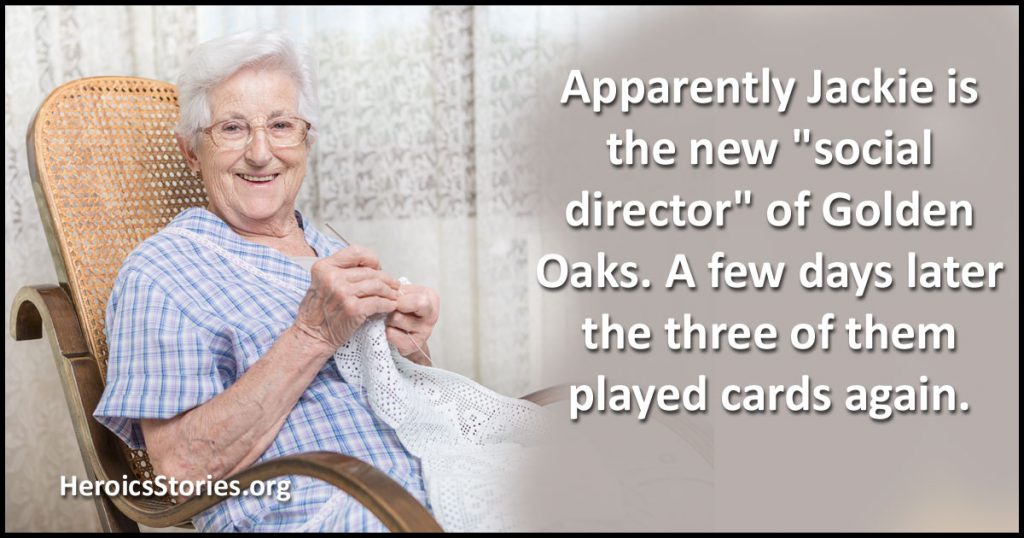 My mother, Helen, lives at Golden Oaks, a board and care facility. This is a private home inhabited by up to six elderly people and two caregivers. It's a wonderful alternative to a nursing home for those who cannot live alone and need more care than that provided in assisted living.
Mom has had a hard time of it the past few years. She's 89, has had both hips replaced, her gall bladder removed, has congestive heart failure and has recently left the hospital after her third bout with pneumonia. After being in the hospital for three weeks, she was weak and disinterested in socializing with other Golden Oaks residents.
She mainly stayed in her room, watching TV or dozing. When she first moved to California, mom kept me busy with requests for library books. But for several months she hadn't been reading.
One of the other residents is Ellie, who's there for hospice care. This means she's in the board and care to be kept comfortable until the end. She was refusing all solid food. Although not terribly sick, she was just waiting to die.
In February 2005 a new woman moved in. Jackie is a real live wire. The day I met her she confided, "I'm 85 years old and weigh 85 pounds". Sadly, Jackie is going blind. Her greatest concern is that soon she'll be unable to read even large print books.
About a week after Jackie moved in, I found my mother, Jackie and Ellie sitting in the living room playing gin rummy. They were talking and having a great time. We'd brought over some Valentine candy, and all three ladies had a couple of pieces of chocolate. Apparently Jackie is the new "social director" of Golden Oaks. A few days later the three of them played cards again.
Jackie was in my mother's room when I arrived a week later, with my mother reading to her from a Danielle Steel novel they'd both read before, yet were enjoying again. Jackie said she was training my mother to be her eyes when she herself could no longer read. I suggested that the caregivers bring Ellie in, and she too enjoyed the story.
Two weeks later things were really looking up! Mom called to ask me to get new books from the library. Ellie started joining the rest of the women for meals in the dining room. She was eating a little solid food, looked a lot better, and no longer talked so much about her "six months to live". Jackie was less depressed about her own situation, was eating more and was "85 years old and 95 pounds".
I'm so grateful to Jackie for the new life she brought my mother and the other ladies at Golden Oaks.
Originally published as HeroicStories #609 on Apr 19, 2005

Podcast: Play in new window | Download (Duration: 3:56 — 1.9MB)