by Kelly Kimura
New York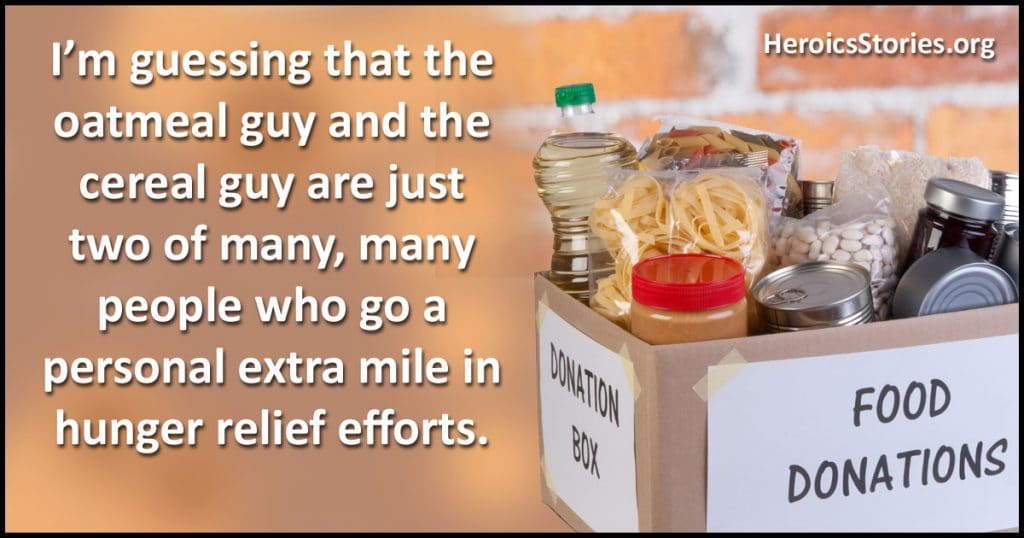 As an occasional volunteer at small soup kitchens that serve breakfast, I'm amazed at how volunteers dedicate themselves to providing hearty, hot meals to two hundred or more homeless people. These soup kitchens are where I met the oatmeal guy and the cereal guy.
The oatmeal guy is a tall, gruff man who wears a beanie and dad jeans. He's retired, and every Sunday he comes in before 6:00 a.m. He's in charge of making and serving hot oatmeal that he mixes from packets; it's an option on top of the regular menu. It took me some time to realize, through overhearing a remark by a longtime volunteer, that the oatmeal guy supplies the oatmeal himself. The clients know him, but don't know this. They ask for first servings, second servings, and/or packets to take with them, and the oatmeal guy dispenses these with a generous hand and a smile.
"Maple or apple cinnamon?" he asks. He doesn't get the plain stuff. "Ya want it hot or to go?"
I asked him how he got started doing this, and for the first time, I saw this big guy look flustered. He said the soup kitchen had once gotten a big donation of oatmeal that the clients had enjoyed. When the donation ran out, he found himself at the supermarket, buying boxes of instant oatmeal packets.
"I just kept on doing it," he said gruffly. "It's nothing. It makes them happy and it makes me happy."
The cereal guy was at another soup kitchen. Another volunteer and I poured cereal into bowls, added shelf-stable milk, and handed out sugar packets. During a short lull, a client came up, and we chatted. He said he was thinking about an invention that would hold cereal and milk separately.
"What do you think?" he asked.
Other clients were lining up behind him, and all I had time to say was, "That sounds really useful. Good luck with your invention!"
Carefully weaving through the crowded dining area, he made his way back to his table with his cereal. Then the other volunteer told me that this client bought and brought cereal to other homeless people living in the subway or sleeping on the street. "They don't come here because they can't," he explained. In my ignorance, I hadn't thought that getting to places within a certain period on a certain day requires mental and physical abilities some people don't have. The cereal guy saw this, does what he can despite his own food insecurity, and thinks about how to improve what he does.
I'm guessing that the oatmeal guy and the cereal guy are just two of many, many people who go a personal extra mile in hunger relief efforts. I'm keeping my eyes open for others.
Originally published as HeroicStories #892 on xxx

Podcast: Play in new window | Download (Duration: 3:50 — 1.8MB)