by Peg Shambo
Iowa, USA
In 1979 I had an R75/5 BMW motorcycle. One lovely summer Sunday afternoon my 10-year-old daughter, Shelley, and I went for a ride in the countryside. We took the back roads to John Boyd Thacher State Park in the Helderberg Mountains, overlooking Albany Count, New York. The view is fantastic from up there! Plus, the roads are windy enough to give extra pleasure to riding the motorcycle.
Halfway through the park the engine just quit. I switched the petcocks on the gas tank to use the reserve level. Still didn't work! Here we were, a woman and her 10-year-old daughter, 20 miles from home, stranded.
Along came a motorcyclist on a Harley Davidson. He slowed, got off his bike, removed his helmet, and asked what the problem was. He had long hair, a beard, lots of tattoos, and a leather vest — the stereotypical "biker" look. Some people would have looked at him and said, "Uh oh, one of those nasty biker types." But I've known many bikers, both good and bad, so I took the chance that he was among the majority — the good ones.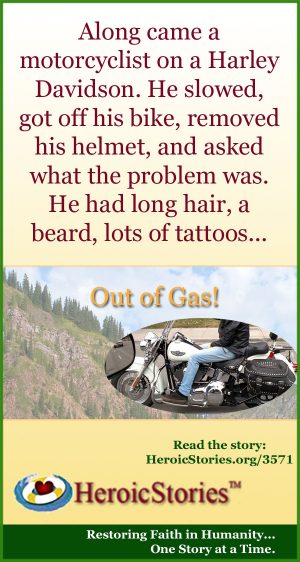 When I explained that I was out of gas and my reserve petcock was malfunctioning, he offered to help. He put my daughter on the back of his bike, road ahead with her to the top of the next hill, and parked his bike. He then ran back and pushed my bike up to the top of the hill.
I then got on the bike, and was able to coast in neutral, using gravity, down the hill and as far up the next hill as inertia would take me. We repeated this maneuver several times until we got to the end of the park, and all there was to go was downhill to reach the next little town.
We had gas rationing in those days, and most gas stations were closed on Sunday. That included the station in the small town at the bottom of the hill. I was really starting to despair.
Then a fellow came out of his house to see what our problem was. When we explained, that gentleman produced a one gallon plastic milk jug. My new biker friend took the jug, hopped on his bike, and with directions from the local gent, took off in search of an open gas station.
Before long the biker was back with a gallon of gas for my bike and we were running again! After taking the time to help out a stranded woman and child, he refused to be reimbursed for his own gas or the cost of the gas he'd bought for us. He just hopped on his bike and was on his way… with us now able to go on our way also.
Originally published as HeroicStories #376 on Jan 20, 2003

Podcast: Play in new window | Download (Duration: 3:44 — 3.5MB)