by Vickie Clark
Texas, USA
My friend Joe is in the early middle stages of dementia. After his last car accident, his children decided it was no longer safe for him to drive, and didn't replace his car. Since then Joe's friends  and church family have helped with his transportation needs.
In December 2010 I drove him to the grocery store to buy a bag of sugar for 99 cents. The store is small and the atmosphere is reminiscent of a time when most people at a store knew each other.
While my friend shopped, I did too; we met at the cash register. On second thought I asked Joe to get me a bag of sugar.
I took Joe's sugar to purchase, and he went to get another for himself. I kept watching for him and finally spotted him in line at the register next to me.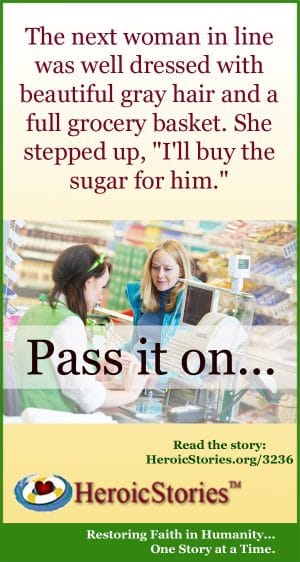 As I paid my bill, the clerk for the next line told a customer, "I'm sorry, but you can only buy four boxes of cake mix for 99 cents. You'll have to pay the regular price of $2 each for the other six boxes."
I heard the customer reply, "I was only trying to help my kids save a little money."
The clerk appeared to be an assistant manager. He was tall, thin, young, and although he kept repeating store policy, seemed a bit unsure of himself. He repeated, "I understand, Ma'am, but you can only buy four at the sale price."
After years of reading HeroicStories, I've started looking for opportunities to help others. Joe was in line behind this kind-faced woman, so I said, "My friend can buy four boxes of cake mix for you." After checking out I joined Joe in line, and the lady handed us four boxes of cake mix and $5.
As Joe checked out, he was told his bag of sugar would only be 99¢ with a $10 purchase. Being easily confused, Joe argued with the clerk. "But the sign says 99¢."
"I know, sir, but the fine print says with $10 purchase."
"No, the sign says 99 cents. Come look, I'll show you."
I intervened, "I understand, but Joe will have a hard time understanding." The clerk looked confused and repeated that the small print said Joe had to buy $10 worth of groceries.
The next woman in line was well dressed with beautiful gray hair and a full grocery basket. She stepped up, "I'll buy the sugar for him."
I told Joe to give the lady behind us $1 and the sugar. He did. We purchased the cake mixes, and gave them with the dollar change to the woman who was waiting for them. This prompted a discussion among us ladies about how nice it is to be neighborly to strangers.
We thanked the lady for the sugar and left… and I spent the drive to his home trying to explain the whole chain of kindness to Joe.
Originally published as HeroicStories #819

Podcast: Play in new window | Download (Duration: 4:12 — 3.9MB)