By John R. Avery
Woodridge, Illinois, USA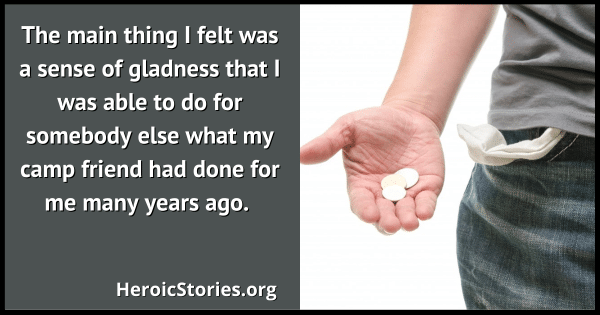 The summer before sixth grade, I attended church camp in south-central Tennessee. I'd never been away from both home and parents for that long, but several of my friends would be there.
My parents had never sent a child to camp before, so they naively thought that there would be no need for any cash "just in case." I didn't think of it, either. However, on the third or fourth day of camp, a little gift shop opened up on the grounds. I went in with several other campers and looked around. Some of them began to pull out a few cents or a few dollars to buy what they liked.
I had a strong inclination to self-pity and so I found it very easy to quietly — well, mostly quietly — sulk out of the shop toward the cabins, feeling thoroughly sorry for myself and making no attempt to hide the fact. But after I'd taken only a few steps out of the building, one of my fellow campers — whom I'd met for the first time at camp, as he was from another town — called to me and offered me a few dollars so I could get something.
I immediately perked up and thanked him, and went back in and bought a little white plastic glow-in-the-dark cross that I kept at the head of my bed for several years to come.
A few weeks ago, my long-distance 13-year-old daughter came to visit on a field trip from Kentucky with some of her schoolmates and teachers. I met them for an evening, and their last activity of the night was an hour or so at a place where you can get dinner and play state-of-the-art video games.
I hadn't eaten yet, so I went off to get some late dinner while everyone else went off to the games. But I heard one teacher say to one of the boys that she had heard he had no money with him for the games. He confirmed this, but the teacher offered no remedy and nobody else was around. The teacher walked off and the boy began to walk dejectedly away by himself, but of course I was immediately reminded of my camp experience. With neither any bitterness toward the teacher nor any sense of the hero on my part, I reached into my wallet and handed him a few dollars so he could play some games with his friends.
He didn't thank me, but that was OK. I figured he felt embarrassed and simply didn't know what to say. But he bought some game tokens and headed into the game room. The main thing I felt was a sense of gladness that I was able to do for somebody else what my camp friend had done for me many years ago. He still does it for me, over and over again, each time I think of him.

Podcast: Play in new window | Download (Duration: 3:41 — 2.9MB)