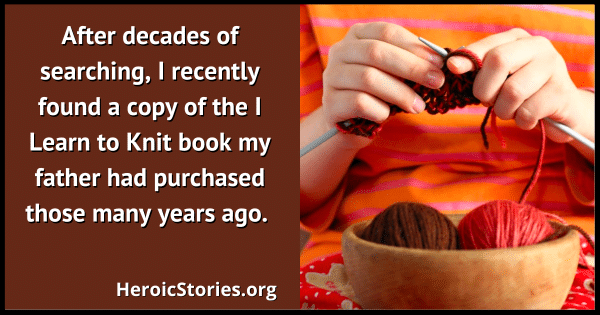 My mother promised me that when I was eight years old, she would teach me to knit. I could not wait.
Unfortunately, my home life was less than ideal. My mother was less than affectionate, and my sister and I definitely preferred the company of my father, who was very kind and loving. This apparently added to the conflict between my parents, because the year I turned eight, she left us for another man. We woke up one morning and she was just gone. My father explained that they had discussed the situation and decided my sister and I would be happier staying in the family home with him. This was in the 1950s, when such things were just not done.
I remembered the promise that I could learn to knit when I was eight. Obviously, my mother was not available and, under the circumstances, I really did not want any contact with her. Apparently, learning to knit was something I had mentioned more than once to my Dad.
Imagine my surprise when he came home from work one day and announced to my sister and me that he was going to teach us to knit! He had bought a beginner's I Learn to Knit book and needles and yarn for all three of us. I will never forget sitting happily on the sofa with my sister, Dad between us, all three of us learning to knit. In those days, "real" men did not do such things. Dad put aside the prejudices of the time to fulfill a promise made to his daughters. I cannot imagine the courage it must have taken.
Those knitting lessons turned into a lifelong passion for me. Today, I create and sell my own craft designs, and I give all of the credit to a man who was not afraid to be a person.
A few years later, over my mother's objections (yes, she did come back, and made all of our lives miserable), he handed me a coping saw and gave me my first woodworking lesson, which also became a great enthusiasm for me. He taught me all manner of skills in a time when "girls just do not do that." I am forever grateful.
After decades of searching, I recently found a copy of the I Learn to Knit book my father had purchased those many years ago. It is now my most prized possession, and I treasure it as a reminder of a wonderful man who ignored the prejudices of his times to fulfill a promise to his two little girls.

Podcast: Play in new window | Download (Duration: 3:47 — 2.9MB)
Originally published as HeroicStories #860