by Bonny Yegon
Kenya
In April of 2001, I was pick-pocketed in Nairobi, Kenya, and I lost not only a very expensive phone but also all my contacts. I reported the matter to the police station because I knew my phone had a phone tracker and could be tracked.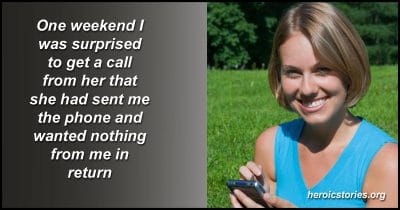 The police were not really very helpful, since they told me that they would recover the phone and keep it as court evidence and I might never get the phone back. They gave me some paper work to take to my service provider to begin tracking my phone. I reacted by giving up the process, and bought another phone.
One month later, the police informed me that my phone had been tracked to Tanzania, a neighbouring country, and they were waiting for my go ahead to begin recovery.
I told them that I would not wish to proceed since I would not get my phone back. And more so, the time and money I would spend in court would be more than the phone.
They persisted that they wanted to go ahead and even offered me the number of the present phone owner in case I wanted to try it out. I called the phone number and was surprised to get a very innocent college girl who had been given the phone by a friend as a gift.
She was so concerned to learn that the phone was being tracked by the police, and promised to send it back. I was very skeptical and offered to withdraw the case from the police and let her own the phone. She did not want anything to do with owning a stolen phone, because of her personal Christian beliefs, and insisted on sending it back.
As a Kenyan who has fallen victim to pick-pocketing before I did not put my hopes up. But I gave the girl the authority to choose what to do and even offered to help her disable the phone tracker. One weekend I was surprised to get a call from her that she had sent me the phone and wanted nothing from me in return — not even the amount she spent on sending it.
I did not know people like her still exist, and she changed my way of looking at people. I might not be able to repay her, but I hope I will one day get a chance to help someone out, too.
Originally published as HeroicStories #830 on June 27, 2011

Podcast: Play in new window | Download (Duration: 3:17 — 1.6MB)