by Mike Gallagher
Florida, USA
About 1976 my family and I left North Georgia to spend Christmas in Orlando, Florida. We were driving a 1972 Audi sedan, which was comfortable for us with our two children, 10 and 12 years old. The car developed what sounded like an engine miss, so I stopped several times to check under the hood. Except for a worn spark plug wire I could find no problems.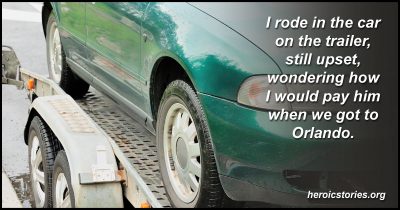 We got on the Florida turnpike in Wildwood, and got into Orlando, where the car quit and wouldn't restart. It was around 4:00 p.m., traffic was heavy and we had passed a service area fifteen miles back. With darkness under an hour away I hitchhiked back to the service area leaving my family in the car, catching a ride right away.
At the service area I met a wrecker driver named Wendell. I had run the battery down trying to restart the car but Wendell told me not to worry, he'd take care of it. We left immediately.
Back at the car we tried to start it — in vain. Wendell loaded it on the wrecker and towed it back to the service area. But when we got there the mechanics had left for the night.
Wendell then towed the car to Wildwood, found us a motel, and dropped the car off at a local garage where he knew the owners. His bill for the several hours he spent with us was only $35.00. Safe for the night and fed from vending machines, my family slept while I sat up all night worrying about the car and how much it would cost to repair.
At first light I was waiting for the garage to open. When it did, the mechanic got right on his diagnostic process. Wendell stopped by in his pickup truck to see how things were going. It turns out the head had developed a leak, allowed antifreeze into the engine which now required an overhaul. Since it was an Audi and it was 1976, the closest place to repair it was in Orlando, fifty miles away. All I could think about was a very expensive wrecker bill and a more expensive repair.
Wendell kindly went and borrowed a small car trailer, cut a hole in his step bumper to allow the towing ball, loaded the car on the trailer and took all of us, and the car, to the Audi dealer in Orlando. My wife and kids rode in his truck's front seat while I rode in the car on the trailer, still upset, wondering how I would pay him when we got to Orlando.
When Wendell unloaded the car, to our amazement, he gave the kids a hug, refused to take even gas money, simply wished us a Merry Christmas and drove off towards Wildwood.
Originally published as HeroicStories #822 on April 6, 2011

Podcast: Play in new window | Download (Duration: 3:51 — 1.8MB)