by Judy Zeitler
Ohio, USA
I grew up in a middle-class neighborhood of Pittsburgh. My father was a maintenance worker in a local manufacturing company, and my mother was a stay-at-home mom, and later a hospital clerk.
While I was in grade school, my father lost his job. The company where he had worked for 21 years moved to Arkansas. He had an eighth-grade education, and finding a job that would come close to paying the same as his union job would be difficult.
Dad was given an opportunity to take free vocational technical classes to become a licensed electrician. At that time, he hadn't attended school in 30 years, and his writing skills left a lot to be desired. But my parents decided it was his best opportunity. It was also the beginning of a lifelong lesson for me.
The training was not easy, but my father had a lot of real-world experience. He studied and worked hard to complete the training. He started a new job not long after completing the training. My brothers and I learned a lot from watching our father go back to school to better himself.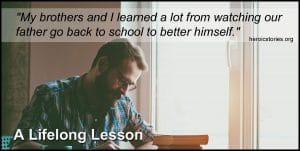 A couple of years later, my mother had a chance to train as a nurse. The hospital where she worked would pay for the two-year training program. In return she would work limited hours and commit to working for the hospital for a set amount of time after graduating.
She took the offer, even though she was years out of school and had three children at home. It meant she had to work part-time at night, take classes during the day and take care of her house and children. The family pitched in to cook and clean, but I know it was nearly impossible to get everything done.
During this time I was preparing to become one of the first members of my family to attend college. I was accepted at one of the best engineering schools in the country. Both of my parents gave me a lot of support as I left home. My father even tutored me when I had problems with a circuits class, helping me realize just how smart he was. My mother graduated from nursing school when I was still in college. I felt prouder of her accomplishments than I was of my own.
I graduated from college years ago and have a son who is a senior in high school. I am considering returning to school to get my master's degree, and my husband is planning to return to college to become a teacher. I know the work will be hard, but I have never forgotten how my parents worked hard to better themselves.
They did more than improve themselves, though. They also showed their children and grandchildren not to be afraid of trying, that you're never too old to go back to school, and that you can learn as long as you live.
Originally published as HeroicStories #375 on Jan 16, 2003

Podcast: Play in new window | Download (Duration: 3:51 — 3.6MB)