by Dorothy Cady
Oklahoma, USA
The cold had settled in quickly. It had been balmy the day before, but it was below freezing now, in December 2003. The Oklahoma roads were icy tonight, and few people were out on them. Our son had just left our house to take his friend home before the weather worsened. When the phone rang, I knew something wasn't right.
"Mom. We found a body in the road. No, at the curve. Yes, we're fine."
Because we lived up a dirt road with few other houses around, there was no telling where the body had come from, or whether or not it was a trick or truly someone who needed help. My husband, our son-in-law, Jon, and I rushed the two miles to the site.
Our son, Ray Cady, and his friend, Merrick McGuire, stood coatless and shirtless next to Ray's car, which he had turned to let its headlights brighten the area. The body was on the side of the road. It lay covered with every piece of clothing the two could afford to remove and still remain modest. The boys shivered. My husband checked for a pulse. The body was breathing. My son and his friend had done their best to keep him warm.
"I drove right past him," Ray told me. "I thought someone had tossed out some clothing or lost it off their truck. I looked in the rear view mirror and the heap didn't look right. So I went back. That's when we discovered there was a person there."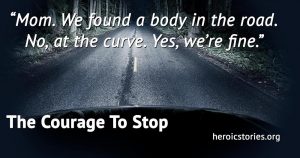 We called the police and told the two young men to get into our car to remove the chill. But they wouldn't go. They crouched by the man and waited, talking to him, hoping to keep him conscious until the police arrived, both wanting to know if he'd survive.
"He'd have frozen to death if your son hadn't found him," the officer told us. "His truck is down the road a bit, in the ditch. Looks like he thought he could walk and get help. You may go now. We'll take it from here."
Once the ambulance arrived, I asked the officers if it was OK to collect the coats and shirts the two had donated to keep the man warm. The stranger was blanketed and the clothing returned. My son and his friend dressed again and went on. We went home.
Though the two young men were worried about their own safety when they realized what they had found, they kept their heads and helped a man who wasn't able to help himself. We still don't know who he was and probably never will, but that doesn't matter. The man is alive because my son and his friend noticed something didn't look right — and had the courage to check it out instead of just driving on.
Originally published as HeroicStories #581 on Jan 12, 2005

Podcast: Play in new window | Download (Duration: 3:45 — 3.5MB)