by John Bundy
Malta
It was Saturday, 2 June 2001, a beautiful sunny day in Malta, and a day off my duties as a TV show host. Since my wife had things to do, I took my 7-year-old daughter by the sea for lunch.
On my arrival to the beach area I saw JoJo, a wealthy man in the hotel business. I'd met JoJo during a Malta charity ball in 1998, since then I hardly saw him twice. We sat down to chat in an open air cafe while I watched my daughter enjoy herself on the swings in front of us. Our conversation varied, from business to entertainment to the economy.
Suddenly our conversation was interrupted by a stranger politely asking permission to speak to me. Often people want to tell me something about my controversial TV show, when I am out on the streets.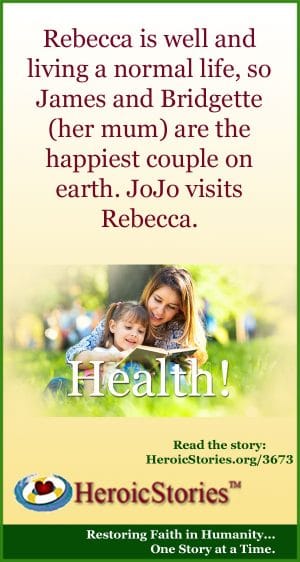 He asked to speak to me privately, so we stood a bit away from my table. He said, "I'm James, 35 years old, father of a 7-year-old girl who's very sick with leukemia. She needs treatment abroad, doctors assure me that if treated in the UK she has an 80 percent chance of survival. I don't have the financial means to take her over, can you please help."
Speechless, I stared in the man's eyes that were filled with tears and asked how I could help. I took his particulars and went to sit back at the table. JoJo was having a phone conversation, but as soon as he finished he asked, "What's wrong with you? Your face changed."
I told him. JoJo was sorry for this family and said I had the means through the media to help him. We headed off to our destinations. All weekend I thought about James, his daughter and his family. I even thought of doing a special TV show to raise funds for this sick child.
Monday morning I was at the office after I finished presenting my show, when my secretary said a man needed to speak to me. It was Mr JoJo Vassallo.
JoJo walked into my office, which was surprising because JoJo is so busy with his hotel business I never imagined he had time to come and see me at the studios.
With cheque book in hand, he said, "Please, call the guy with the sick child and tell him that all expenses required by him, his wife and his sick daughter to go to the UK for treatment will be covered by myself."
"John, I've been married for 35 years, I wasn't lucky enough to have a child, I want to help this child now." I picked up the phone to call James.
Rebecca is well and living a normal life, so James and Bridgette (her mum) are the happiest couple on earth. JoJo visits Rebecca. I'm so happy that there are so many good people on this earth, and to have been privileged to be a part of this.
Originally published as HeroicStories #792 on March 26, 2010

Podcast: Play in new window | Download (Duration: 4:09 — 3.9MB)
Audio Credits
:
Narration by Wayne Talmadge