by Jim Bruns
St. Clair, Missouri, USA
Frank was a high school boxing and math teacher while I was in grade school during World War II. He lived across the street, and was one of those rare individuals who never tire of listening to endless questions from neighborhood kids.
Frank could have doubled for Douglas Fairbanks, Jr., and it wasn't long before he unwittingly became my mentor. He taught me to play chess, fence and directed my reading, religious and music interests. There was nothing off limits in our discussions. He showed genuine pleasure as he shared his time with me. The only time he could not be disturbed was late evenings, while he cranked out what I knew must be the Great American Novel. It turned out he supplemented the family income by writing pulp fiction from plot cards at the rate of three manuscripts per month.
Frank's wife Cee was also a great influence. She had retained a mysterious beauty from her younger days when they had a Vaudeville dance act. Stories of their days on stage entranced me. Photo albums allowed me a peek into their past. They beamed with pride as I read yellowed play bills announcing their act on the same bill as Eddy Foy. They were inseparable, or so it seemed.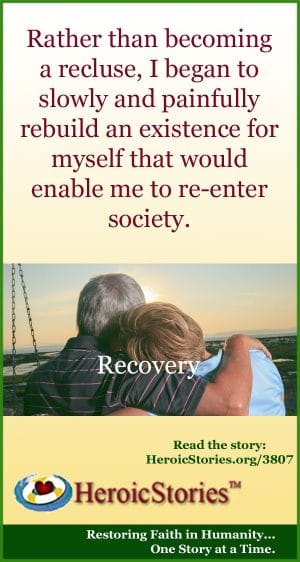 I left home and entered the business world fortified with Frank and Cee's influence. Then I learned from my family that Cee had passed away. By then, I had found my own true love, and was creating my own experiences to share with kids in my neighborhood.
On my next trip home I hurried to find out why Frank hadn't answered my letters of condolence. He came to the door a haggard, unhappy man. He neither invited me in nor talked with me. Though hurting for him, I turned and left. He became a recluse after Cee's death, and lived another 20 years in that condition.
Two years ago, I lost my beloved of 38 years to cancer. Following her death, I understood each day all too well what had happened to Frank. I watched myself turn friends away. I saw myself doing just what he had done, and realized I could be engulfed in this grief for my next 20 years. With this understanding, I chose  once again to learn from Frank.
Rather than becoming a recluse, I began to slowly and painfully rebuild an existence for myself that would enable me to re-enter society. At the ripe old age of 65, I am once again engaged, to a wonderful woman.
Knowing of Frank's last years hasn't diminished his stature one bit in my eyes. While I respect and understand the devotion my friend had for his beloved, mentors may teach by showing us how NOT to do something. Frank, I thank you for this last lesson.
Originally published as HeroicStories #152 on June 13, 2000

Podcast: Play in new window | Download (Duration: 4:06 — 3.8MB)