by Camilla Flores
Brazil
I work in a multinational company in Brazil. In 2003 Headquarters sent us a "Lean Operation Manager". As his secretary, I struggled to communicate with Mr. Thomas in limited English. Rushing to the airport to return to his family in Germany, he crashed his rented Mercedes.
He called, speaking rapidly in German, and I panicked. I couldn't understand, and he was very far away. Mr. Thomas spoke no Portuguese.
A young man stopped. Sao Paulo is not a safe city. It's recommended you don't talk to strangers. This man showed his company credentials to ease any fears. To our extreme relief, Rodrigo spoke fluent English.
Mr. Thomas handed him the phone, and his calmness soothed me. I was a nervous wreck, but Rodrigo said he'd stay until the tow truck arrived. His chatting calmed my boss.
Then a public tow truck driver arrived, saying he must move the car to a gas station! Rodrigo volunteered to take Mr. Thomas, but the driver wouldn't tow an unattended car. Rodrigo talked to him, and I heard the truck driver's loud laugh. The truck driver pulled the Mercedes — unattended.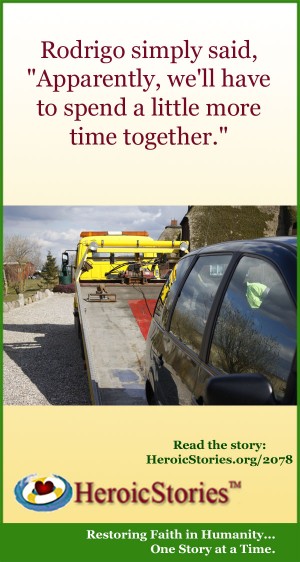 Rodrigo drove away from his destination to the gas station. With our insurance company's tow truck hours away, my boss and I were stunned. He'd miss his flight if he waited, but who would hold the keys? Rodrigo convinced us everything would be all right.
He refused our requests to plead to the tow driver to wait: "He's helped us enough."
He requested the station manager to give the keys only to the insurance driver. The manager didn't want to take responsibility. Rodrigo said he knew he could count on him. He was so firm and confident, the man replied, "Sure." Listening via phone, I was amazed at his ability to inspire others to do good.
We learned the cab wouldn't make it. Too much traffic. Rodrigo simply said, "Apparently, we'll have to spend a little more time together." Mr. Thomas replied, "You've done too much!" Rodrigo was on the way to his college work group, and this intruded. But Rodrigo had already opened the Mercedes' trunk and gotten the bags.
They took two hours and barely made the flight, but Rodrigo kept Mr. Thomas's mind off the clock. On arrival, Mr. Thomas offered US $100.00 for his trouble and gas, but Rodrigo refused payment and rushed Mr. Thomas to check in. Rodrigo was genuinely happy to help a stranger. His cheerfulness prevented despair; Mr. Thomas actually had a good time.
What a blessing to meet such a person! We should all be "Rodrigos". Since then, I try to be more like him, but sometimes, good works feel a little like a weight — or like I'm special because of it. But Rodrigo simply did it.
A trainee then, he must be a Director now. Such a special person couldn't go unnoticed. I wish I could tell him how he touched our lives.
He deserves to hear it!
Originally published as HeroicStories #626 on Jul 29, 2005