by Jennifer Knopf
Oklahoma, USA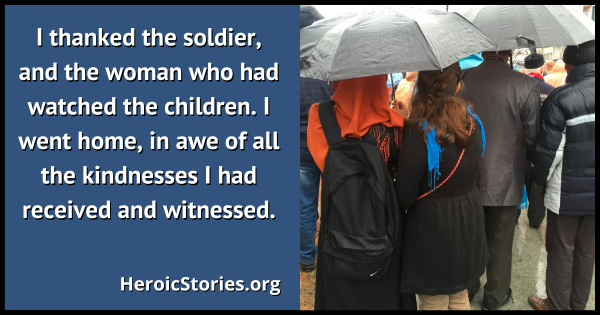 ---
In Oklahoma in April 2007, our local city council passed an ordinance changing pet registration fees. Fees went up drastically for unfixed pets. For a limited time, fees were grandfathered, but if you didn't license your pet in time, you'd pay the larger fee every year.
One Saturday, I went to register my dog. My soldier husband was away training, so I had to take all four children. There was a long line. We started getting friendly with the middle-aged couple ahead and a soldier behind us. We traded stories about our pets, and the couple helped entertain my children.
After 30 minutes, rain began to drizzle. I put my children's hoods up and tucked blankets tighter around the baby. My two older children stood with me in the rain while the younger ones huddled in the stroller. I feared if we tried to come back the next day, the lines would be even longer. A lady ahead of us took my older children under her umbrella.
After 20 minutes, rain poured. The soldier offered to let my three children sit in his (visible) car and watch a movie. How could I let my children get into a stranger's car when I would have to stay in line?
The lady in front of me volunteered to watch the children in the SUV while her husband stayed in line. The soldier turned on his car, cranked up the heat, put in a Disney movie, and came back. The wife took all the children who'd been in line into the car.
Now I just had the baby to worry about. My son was getting wet, so I pulled him into my jacket. As he cried, people further ahead turned to look. I felt embarrassed and foolish. Why hadn't I brought an umbrella? I should've gotten a babysitter. I should try the next day.
Suddenly a man called, "Lady, please get that baby inside!" I thought he meant, "Go home!"
Instead, other people spoke, encouraging me to enter the office. Since only three people fit inside, everyone else would be outside longer. I hesitated, but everyone ahead moved aside to clear a path. Once inside, I was given the only chair. Everyone entering stopped to make sure my son was OK. No one seemed resentful.
As I watched, a woman approached the window and registered two pets. Taking out her checkbook, she was told the office ONLY took cash, and that if she ran to an ATM for cash, they couldn't let her just come back to the front of the line. Another lady offered her the cash in exchange for a personal check. The first woman accepted in disbelief and gratitude.
Then it was my turn. I quickly paid my fee, took my paperwork, and went outside. My children were waiting safely in the warm SUV. I thanked the soldier and the woman who had watched the children, and went home in awe of all the kindnesses I had received and witnessed.
Originally published as HeroicStories #755 on Oct 8, 2008

Podcast: Play in new window | Download (Duration: 4:17 — 3.3MB)