By Kellie Freed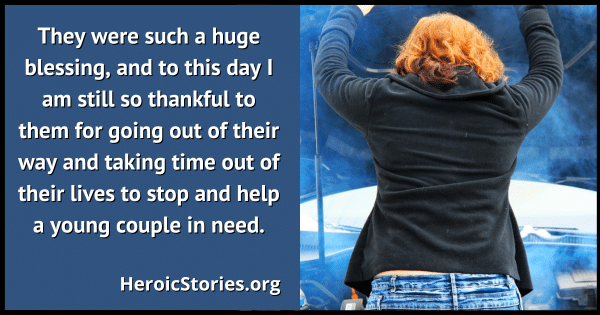 ---
In January of 2014, I was taking my fiancé to pick up his car at the mechanic shop when I experienced the kindness of strangers.
The northeast part of the United States was heading into one of the coldest winters in recent history.  When I picked my boyfriend up from work, the sun was starting to set and the temperature was dropping quickly.
Traffic was at its peak, and I am not very patient in bumper-to-bumper traffic, so I left the highway to take less-traveled roads.  We were sitting at a stoplight when I heard a hissing noise, and looked down to find my temperature gauge in the red and steam pouring out from under my hood.
As soon as the light turned green, I pulled into the parking lot of the church across the street. We popped the hood and discovered one of the radiator hoses in my 14-year-old Honda had given out with the stress of the temperature drop.  Unwilling to wait two hours for a tow truck for something as simple as a bad hose, we called my dad and told him to fill as many big containers as he could find with water and come get us so we could get my car home.  We knew we were in for a very long, very cold wait.  Neither of us were dressed for anything other than being in a warm car, and we huddled miserably inside, watching traffic drive by as the sun set and it grew ever colder.
Suddenly, a very nice BMW pulled into the empty parking lot and drove over to us.  Inside was a very nicely dressed older couple.  They said they saw us while they were waiting at the traffic light and realized how cold we must be.  They invited us into their warm car and adjusted the heater so it was blowing on us.  Dad called to ask me exactly where we were, as he was unfamiliar with the area.  I knew the road enough to drive home, but not well enough to tell him exactly where the church was, and when the gentleman driving the BMW realized that, he asked for my phone and gave my dad very clear directions on how to find us.  They stayed with us until my dad arrived.
They gave us their first names, but I was so frazzled I don't remember them, and I was far too upset about my car to thank them properly. They were such a huge blessing, and to this day I am still so thankful to them for going out of their way and taking time out of their lives to stop and help a young couple in need.

Podcast: Play in new window | Download (Duration: 3:54 — 3.0MB)
Originally published as HeroicStories #864