Terry Hoffman
Grays Harbor, WA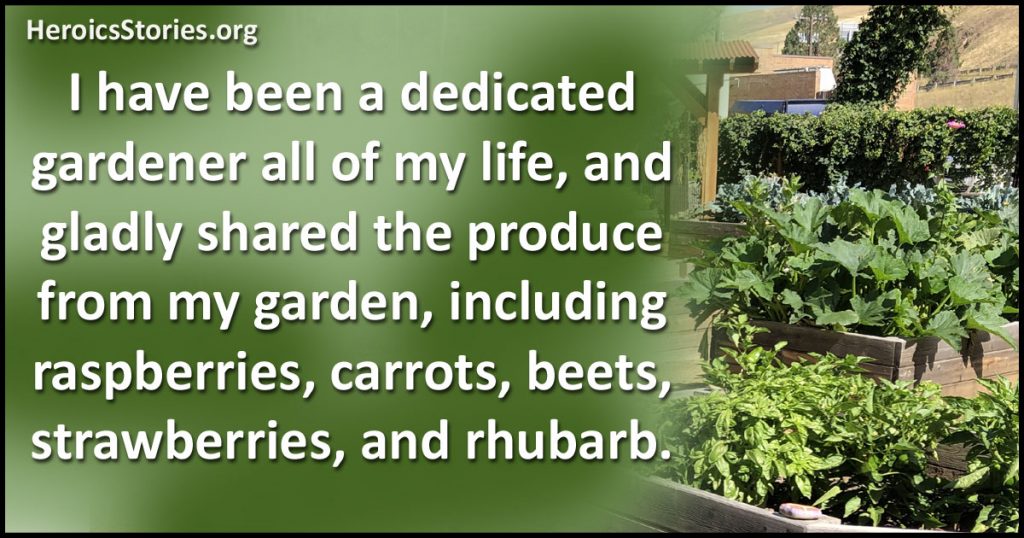 Neighbors have always been important to me, in ordinary times as well as in crisis like our current pandemic. 
Several years ago, a nice family moved into my neighborhood. They were friendly, had a sweet little girl, and were animal-lovers—all pluses in my book. We had cookouts on the weekends and fires in my fire pit, where we would toast marshmallows and talk late into a Saturday evening.
When they knew I was not feeling particularly well, they would make a point to check on me, since I am elderly and my health has deteriorated significantly in the past few years.
They would tell me when they were planning on going on a vacation, and I would keep an eye on their house. In return, they kept an eye on my place and chased off trespassers a couple of times.
I have been a dedicated gardener all of my life, and gladly shared the produce from my garden, including raspberries, carrots, beets, strawberries, and rhubarb. They enjoyed it immensely.
The second year, I contrived to get them involved in starting a garden of their own. Many times, I chuckled to myself while explaining things I thought everyone knew. By the end of the growing season, they had tomatoes, some spices, and even a small strawberry bed. They were ecstatic to harvest their first home-grown food.
The wife worked for a large company that is dedicated to taking good care of its employees. Just the other day, she informed me that the company had found a source for reliable virus masks and will provide one for each of her family members. She then informed me that she was going to request one for her "grandmother." She just brought it to me today. Now I can go to the grocery store with far less fear, since I am in the high risk category, suffering not only from old age, but respiratory problems and cancer.
She did not have to go out of her way to do this. It is just a wonderful example of how people can look out for each other in this time of hardship.
Originally published as HeroicStories #893 on Apr 17, 2020

Podcast: Play in new window | Download (Duration: 3:18 — 4.1MB)