by Henry F. Collins
Tampa, Florida, USA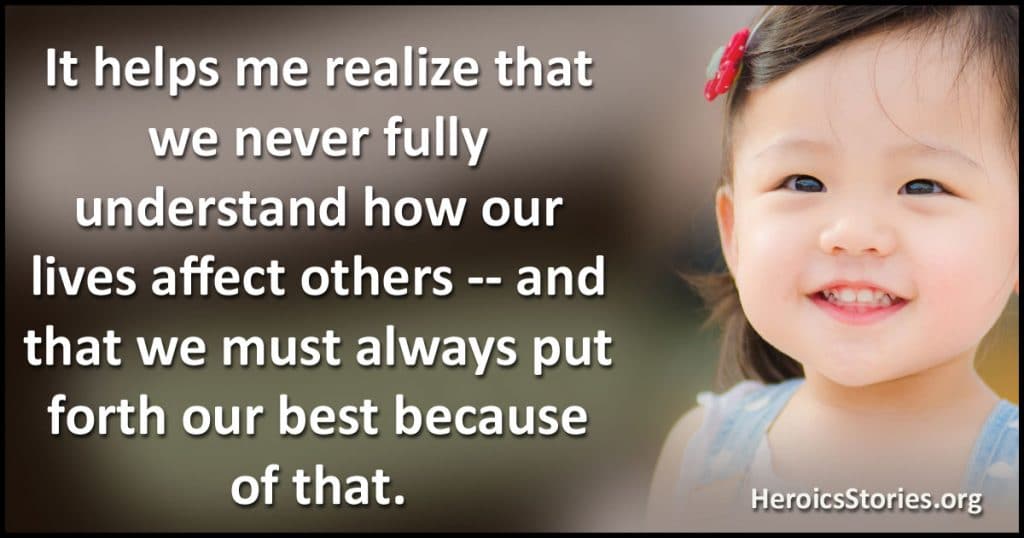 My daughter Rebecca was born in Taiwan. Her mother is Chinese, and for her first four years, Chinese was Rebecca's first language. We moved to a town in Northern Arkansas shortly before her fourth birthday. She quickly learned English, and we enrolled her in the local Montessori pre-school.
The cultural shock for her mother was immense. From Taipei, Taiwan, to Harrison, Arkansas, is an enormous jump. After a few months, her mother fled back to Taipei, taking Rebecca and her brother. After three months, I went there and brought the kids back. My wife followed soon after.
Harrison is typical of a small, rural city. Everyone knows everything about everyone, and apparently the gossip had been flying. But gossip can be positive, as well as negative. I was in the checkout line at one of the grocery stores when the checker said, "Mr. Collins, I want you to know that, next to you, my family is the happiest that you have Rebecca back."
She went on to explain that her daughter, Laura, was in Rebecca's class at the Montessori school. Laura was a bright, pretty girl who didn't talk. That means that she didn't talk — not at home, not at school, nowhere. She and Rebecca had become friends in class, and it had gotten to the point that, when the teachers spoke to Laura, she would whisper an answer to Rebecca, and Rebecca would reply to the teacher. Soon, Laura began to talk at home. All the while, we were totally unaware of the help Rebecca was giving to Laura.
But, when Rebecca left, Laura stopped talking again. Her parents were distraught. After she did come back, Laura resumed making progress, and by the time kindergarten rolled around, didn't need Rebecca to talk for her anymore. When I last saw Laura, before we moved to Florida, she was a normal, talkative little girl, if a bit shy.
Becca is now fifteen. When she really gets on my nerves, I replay this story in my mind. It helps me realize that we never fully understand how our lives affect others — and that we must always put forth our best because of that.

Podcast: Play in new window | Download (Duration: 3:29 — 4.1MB)