by Allen C. Laws
Texas, USA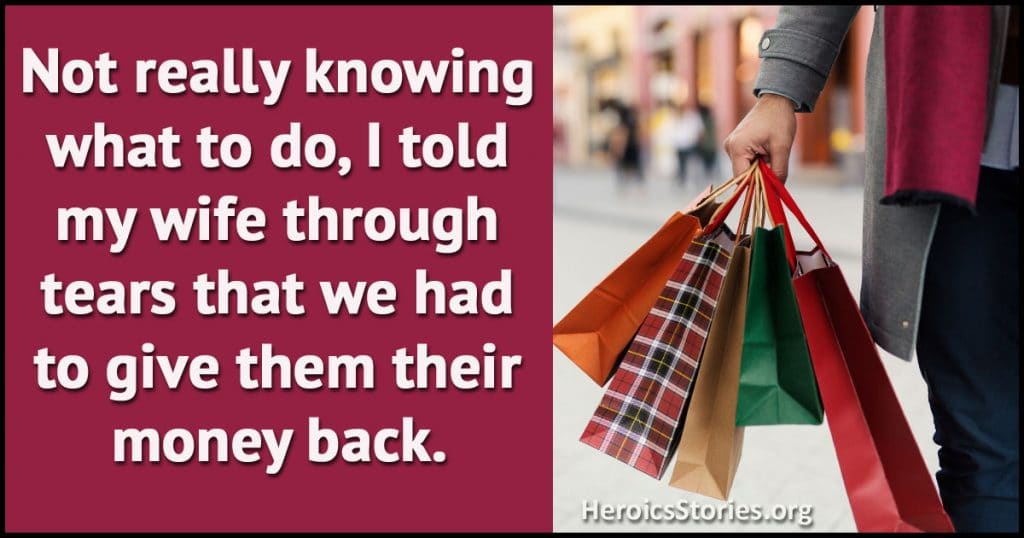 I've heard speculations on what true heroes look like and how they might get involved in the life of someone like me. I never thought I would actually meet such a person. Yet on December 12, 1999, at about 4:30 p.m., at a department store in Conroe, Texas, I had an amazing encounter.
My wife and I were having a great time, busy with both Christmas and grocery shopping, really getting into the spirit of the season. While my wife waited at the checkout line, I went to get our car. While waiting, she visited with an elderly man and his wife who helped her unload our carts.
The woman wore a Santa sweater and black-rimmed glasses, with a head full of fluffy white hair. She just seemed to glow. Her husband, with a salt-and-pepper beard, smiled, yet was quiet and unassuming.
After parking the car in a cold, dreary mist, I came back in the store to help my wife with our purchases. As the checker finished up, my wife introduced me to the couple as her husband, saying, "These two people are the nicest folks I've met in a long time." I could see the radiance in their appearance, their sweet innocence as they spoke.
When the checker was through, to our dismay, our credit card was declined. Our total bill was well over 200 dollars. Then our check was also refused, even though my wife had a payroll check in her purse. She hadn't had time to deposit her paycheck, but the bank in the store wouldn't cash it since it wasn't drawn on their bank.
The store stuck to its policy and refused our check. The manager had us move out of line and canceled our purchases.
As I moved our baskets, I saw the gentleman bend down and whisper something to his wife and she just nodded in agreement.
My wife and I stood waiting for the final disposition from the store manager, and as we waited, the elderly couple checked out.
As they walked past us, the woman held her hand out to my wife and my wife reached out to shake her hand. But instead of a handshake, the woman handed my wife $184, enough cash so we could cover our bill.
Nothing else was said. We stood there in amazement.
Not really knowing what to do, I told my wife through tears that we had to give them their money back. It probably was almost all the cash they had on them. My wife agreed with me, and turned to find them, but they had already disappeared.
She found them outside and tried to give the money back to them, but they simply smiled at my wife, told her "Merry Christmas" and refused to take it. Just thinking about this brings tears to my eyes. I truly hope they know how much they meant to us that day.
Originally published as HeroicStories #714 on May 18, 2007

Podcast: Play in new window | Download (Duration: 4:07 — 3.6MB)